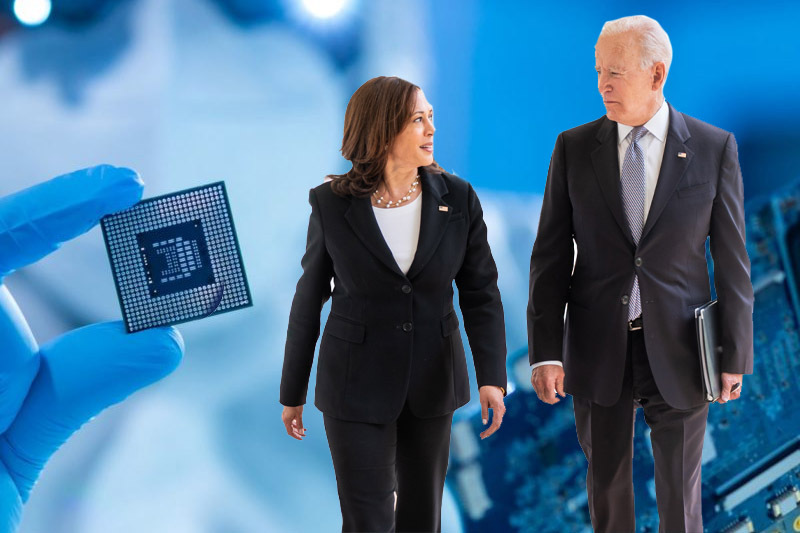 FACT SHEET: Investment agenda, in Semiconductor R&D & highlights of the Biden-Harris administration in the US
FACT SHEET: Investment agenda, in Semiconductor R&D & highlights of the Biden-Harris administration in the US
The Biden-Harris Administration's Investing in America agenda is making historic investments in semiconductor manufacturing and research and development to support American innovation, create jobs, and boost America's competitiveness. Today, Vice President Kamala Harris will visit Applied Materials in Sunnyvale, California to highlight this. Applied Materials has announced plans to invest up to $4 billion in the EPIC Centre, a new research and development facility, at the same time as Vice President Harris' visit. At this facility, Applied Materials will develop the next generation of tools for semiconductor manufacturing, working alongside top chipmakers who will ultimately use these tools in their factories.
The CHIPS and Science Act, which President Biden signed into law in August, has stimulated private sector investment, including by affecting the size of Applied Materials' investment. In order to encourage them to invest in America, generate American jobs, and revive American manufacturing and R&D, Vice President Harris will also meet with executives from major semiconductor manufacturing, design, and supply chain companies while on the visit.
The CHIPS and Science Act commits a historic $53 billion federal funding to advance America's leadership in future industries like nanotechnology, clean energy, quantum computing, and artificial intelligence. It also strengthens and revitalizes the country's position in semiconductor research, development, and manufacturing.
Keep Reading
The Act is a part of the Biden-Harris administration's Investing in America agenda, which is boosting American supply chains, fostering a boom in manufacturing across the country, and creating well-paying jobs — many of which don't require a four-year degree. Private companies have announced $470 billion in manufacturing and clean energy investments in the United States since the Biden-Harris Administration's inception, including over $200 billion in semiconductor production.
The CHIPS and Science Act includes historic investments in research and development programs to advance American innovation in semiconductors and other technologies, strengthen American supply chains, and increase America's national security and economic competitiveness. It also offers incentives for businesses to invest in semiconductor manufacturing in the United States.
Private companies have announced nearly $140 billion in investments in semiconductor production, supply chains, and R&D to be made over the next ten years, just over nine months after President Biden signed the CHIPS and Science Act into law. Additionally, the Department of Commerce has already received 300 Statements of Interest from prospective applicants interested in applying for CHIPS incentives. These statements of interest cover projects in 37 states and all areas of the semiconductor ecosystem. Universities, community colleges, and other institutions all over the country have been working to support the semiconductor workforce in addition to these investments.
Recent investment announcements include:
• Applied Materials announced today that it will spend up to $4 billion building a new research and development facility in California.
• Analogue Devices revealed a $1 billion investment that will double production at its current Oregon facility.
• EMP Shield revealed a $1.9 billion investment for a semiconductor production facility in Kansas. Over 1,200 jobs are anticipated to be created by the project.
• General Motors and GlobalFoundries recently announced a long-term, ground-breaking agreement to build dedicated capacity at GlobalFoundries for producing the chips created by the company's essential suppliers.
• IBM announced a $20 billion investment in New York to support other crucial technologies like quantum computing, artificial intelligence, and other fields, as well as to design and produce semiconductors.
• Intel announced a $20 billion investment to construct two cutting-edge semiconductor facilities in Ohio, creating 10,000 fab jobs.
• Micron disclosed plans to invest $15 billion in a new facility in Idaho and $20 billion in New York for a mega fan for cutting-edge memory chips. Computer, automotive, and data center industries all rely heavily on memory chips. A total of 11,000 company jobs are anticipated to be created by these projects.
• Texas Instruments intends to spend $11 billion building a semiconductor wafer fab in Utah, which will support a number of industries, including the auto industry, and create 800 jobs.
• TSMC announced an increase of $28 billion in its investment in Arizona, bringing the total amount invested to $40 billion for the construction of two cutting-edge semiconductor manufacturing facilities. In Arizona's history, this is the most significant foreign direct investment.
• Wolfspeed disclosed a $5 billion investment in North Carolina to construct a silicon carbide wafer manufacturing facility. 1,800 new jobs are anticipated to be created by the project.