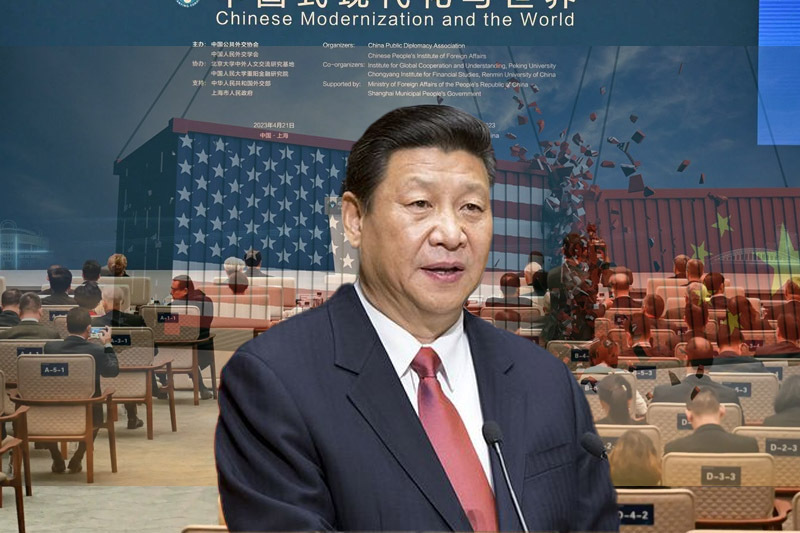 Economic demands could take a backseat to security in Xi's China
Economic demands could take a backseat to security in Xi's China
China set out this year to entice international investors and normalize its relations with the West in an effort to jump-start its stagnant economy. These objectives, however, conflict with China's leader, Xi Jinping, who sees enhancing national security in a world full of dangers as the top priority.
Notably, China must fight back against an American plot to control and suppress the country's progress, Xi has warned. According to this perspective, competitor nations are deploying espionage to undermine China's economy; Russia is not viewed as a pariah but rather as a key ally in containing the NATO threat; and the diplomatic arena is where China can exercise its influence and alter the course of world events.
Moreover, authorities here have launched a national crackdown on consultancy companies with overseas contacts, sending a shiver through foreign enterprises. China's state-run media charged that Western nations were attempting to steal critical data from important businesses with the aid of consulting companies that guide foreign investors through the complex Chinese economy.
However, Beijing's closeness to Moscow has hindered Beijing's ambitions to strengthen ties with Europe and so put a wedge between the United States and some of its most important allies.
Keep Reading
Notably, Chinese Foreign Minister Qin Gang rebuffed charges that Beijing wasn't doing enough to put an end to Russia's war in Ukraine during a visit to Germany this week. He also threatened China with retaliation if the European Union opted to put penalties on Chinese firms that were allegedly providing Russia with military technology.
Moreover, Canada has expressed worry over China's assertive behavior. The Canadian politician was a fierce opponent of Beijing's treatment of Uyghur Muslims, and that government accused a Chinese ambassador of threatening him and obtaining family information on him. Beijing expelled a Canadian diplomat in Shanghai as payback after Ottawa asked the Chinese envoy to leave in a tit-for-tat action.
According to Evan S. Medeiros, a Georgetown University professor of Asian studies who advised President Barack Obama, "China's ability to manage multiple and competing interests, domestic and global, is rapidly becoming a defining challenge for Xi."
Furthermore, even while it is nothing new, it has been harder as China's economic recovery has become more rocky due to sluggish export growth and skyrocketing unemployment rates.
Xi appears to believe he can both impose himself and win over other nations by capitalizing on the gravitational pull of their economy and widespread discontent with American hegemony. These are significant bets.