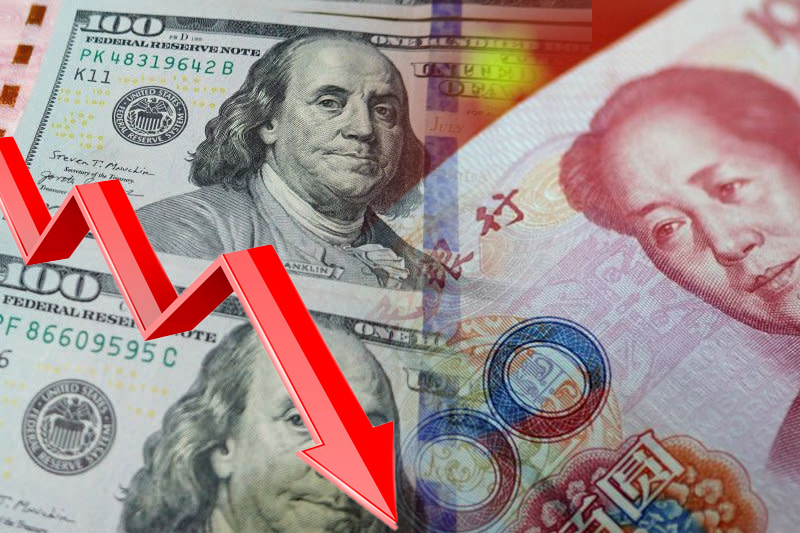 chinese yuan hits record low against us dollar
Chinese Yuan hits record low against US dollar
After the euro dropping record low against the dollar as well as the British pound, another currency to weaken against the dollar is China's renminbi or yuan. On Monday morning, China's central bank, the People's Bank of China, fixed the initial value of yuan or renminbi at more than 7 to the dollar for the first time in over two years. This has been the weakest fixing of the Chinese currency since July 2020. China's domestic currency also has reached its weakest point since the global financial crisis of 2008.
"China's decision to let a psychological barrier like 7 to the dollar be breached, while using the rule change to discourage trading against the currency, basically meant the People's Bank of China does not want to try to defend any particular foreign exchange level, but to slow the pace of depreciation," said Peiqian Liu, a China economist at NatWest Markets.
Keep Reading
Meanwhile on Wednesday, other stock market indexes across Asian region recorded a sharp drop. Japan's benchmark Nikkei index, Hong Kong's Hang Seng and the Kospi in South Korea were all down by more than 2 per cent at the time of morning trade.
During past few weeks, the Chinese yuan has consistently tended to trade towards the weaker end of the range. By early Monday afternoon, yuan was standing at exchange of about 7.16 to the dollar, reaching a level of weakness that has not been since 2008. But despite US dollar standing strong against all other currencies, Federal Reserve might still continue to raise the rates. "The strong dollar is working for the US market," said Dimitri Zabelin at the London School of Economics' foreign policy think-tank. "It will be a consideration but it will not weigh as heavy as domestic concern about inflation."
"A big part of the fall in the renminbi, which has lost roughly a tenth of its value versus the dollar this year, reflects the dollar's strength as opposed to the renminbi's weakness," said Larry Hu, an economist at Macquarie Group of Australia. "The renminbi against a basket of currencies this year is flat," he said.