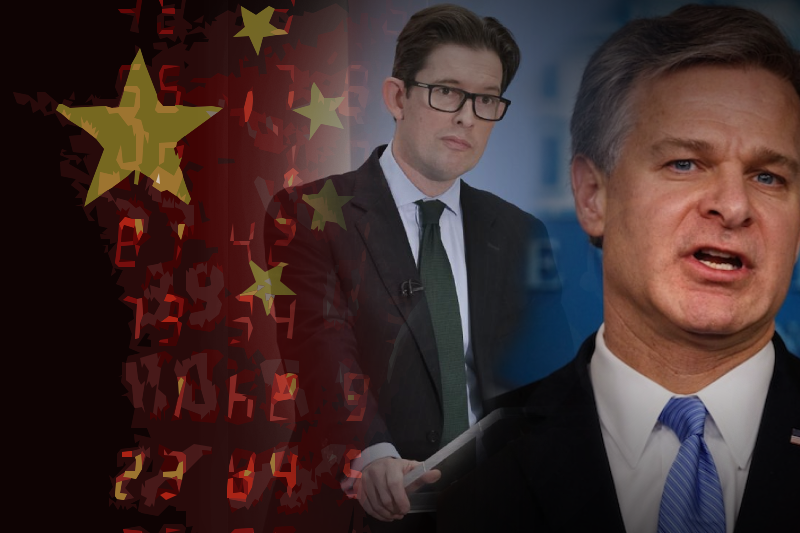 china warned over spying by fbi and mi5 leaders
China warned over spying by FBI and MI5 leaders
Heads of United States FBI (Federal Bureau of Investigation) and domestic intelligence agency of United Kingdom, MI5 have issued an unprecedented warning to Beijing while blaring a warning alarm to businesses that the Chinese government is "determined to steal their technology for competitive gain".
MI5 and FBI heads stand together in address from London
In a speech given at MI5's headquarters in London, the intention was to show western solidarity. The FBI director Christopher Wray stood alongside the MI5 director general, Ken McCallum during the speech from London headquarters of MI5.
Wray reaffirmed the longstanding concerns about "economic espionage and hacking operations by China as well as the Chinese government's efforts to stifle dissent abroad".
"We consistently see that it's the Chinese government that poses the biggest long-term threat to our economic and national security, and by 'our', I mean both of our nations, along with our allies in Europe and elsewhere," Wray said. Addressing the audience, Wray said that the Chinese government was "set on stealing your technology, whatever it is that makes your industry tick, and using it to undercut your business and dominate your market".
MI5 has bolstered investigations into China multifold
Ken McCallum said that MI5 was currently running seven times the investigations into China as it had done four years ago, with plans to "grow as much again" to tackle Beijing's growing offensive into invading the national security of other countries.
"Today is the first time the heads of the FBI and MI5 have shared a public platform," McCallum said. "We're doing so to send the clearest signal we can on a massive shared challenge: China."
"This might feel abstract. But it's real and it's pressing," he said. "We need to talk about it. We need to act."
The recent warning comes as the US and British intelligence confirm about Beijing's recent spying into Taiwan as the friction between them reaches peak levels.