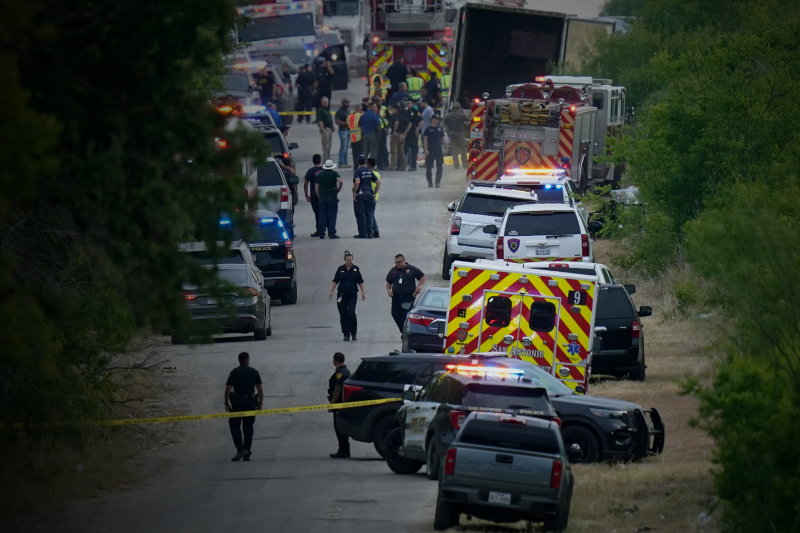 at least 46 migrants found dead in an abandoned trailer in san antonio texas
At least 46 migrants found dead in an abandoned trailer in San Antonio, Texas
Forty-six people were found dead and 16 others in critical condition were taken to hospital after they were found inside an abandoned tractor-trailer rig on Monday on a remote back road in south-west San Antonio, as said by Texas officials. The scene was described by Mayor Ron Nirenberg as a "horrific human tragedy".
The officials in San Antonio said that it appears to be a migrant smuggling attempt gone wrong.
One of the deadliest migrant tragedies in US
This is one of the deadliest tragedies in the United States in recent decades to have claimed lives of thousands of people attempting to cross the US border from Mexico. In 2017, ten migrants had died after being trapped inside a truck parked at a San Antonio's Walmart. In 2003, 19 migrants were found stuck in a sweltering truck at a location southeast of San Antonio.
Why San Antonio?
South Texas has always been a focal area and most busy location for illegal border crossings from Mexico. Migrants from countries south of the US ride in vehicles though Border Patrol checkpoints to reach San Antonio in Texas, the closest major city from the border. From here they disperse across the country.
The unfolding of tragedy on Monday
A city worker at the location became aware of the situation by a cry for help on Monday, shortly before 6 p.m., Police Chief William McManus said. "Officers arrived to find a body on the ground outside the trailer and a partially opened gate to the trailer," he said.
Sixteen people were taken to hospital nearby with heat-related illnesses, 12 adults and four were children, said fire chief Charles Hood. "The patients were hot to the touch and dehydrated, and no water was found in the trailer," he said.
Three people have been taken into custody, but it is still unclear if they were connected to human trafficking, confirmed McManus. "Those in the trailer were part of a presumed smuggling attempt for those attempting to enter the United States, and the investigation was being led by US Homeland Security Investigations," McManus said.
Secretary of Homeland Security Alejandro Mayorkas tweeted that he was "heartbroken by the tragic loss of life" in San Antonio.
I am heartbroken by the tragic loss of life today and am praying for those still fighting for their lives. Far too many lives have been lost as individuals – including families, women, and children – take this dangerous journey.

— Secretary Alejandro Mayorkas (@SecMayorkas) June 28, 2022