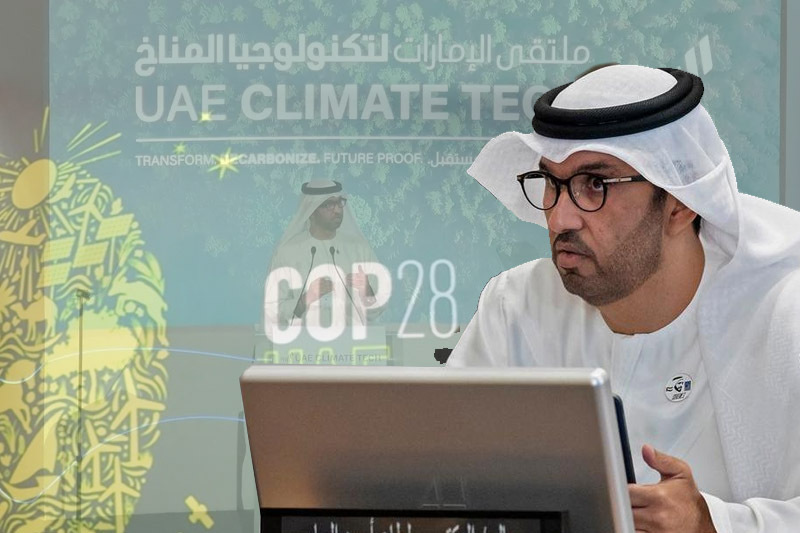 Al Jaber convenes CEO decarbonisation roundtable at UAE Climate Tech Forum
Al Jaber convenes CEO decarbonisation roundtable at UAE Climate Tech Forum
COP28 President-Designate Dr Sultan Al Jaber recently convened a CEO roundtable on the sidelines of the UAE Climate Tech Forum, bringing together heavy-emitting industries, financial institutions, and technology providers to find effective solutions for the climate emergency.
The roundtable followed the call to action Al Jaber made in March at CERA week in Houston, where he called for a collective approach to reach net-zero methane emissions by the end of this decade and net-zero by 2050.
The COP President highlighted the need to reimagine the relationship between energy producers and industrial consumers – turning a tie based on supply and demand into one that focuses on co-creating the future.
He called for an active partnership between producers of energy, consumers, governments, civil society, technology companies, and the financial world. "Working together, the goal would be … [a] just energy transition that leaves no one behind," he added.
Keep Reading
In the meeting, Al Jaber shared certain insights from the recent Intergovernmental Panel on Climate Change (IPCC) Synthesis Report that has called for rapid reductions in greenhouse gas emissions in all sectors.
He also highlighted the IPCC report, which – quite prominently – states that carbon capture technologies when applied to heavy emitting industries would further pave the way for achieving net zero, alongside the use of clean energies and other technologies.
The COP President stressed the importance of breakthrough solutions and a major course correction, in order to maintain economic growth while significantly reducing emissions and meeting targets established by the landmark 2015 Paris Agreement.
He called for an end to finger-pointing, emphasising the power of partnership and unity. Al Jaber added: "The Paris Agreement united governments around what the world must do to meet the climate challenge. COP28 will focus on the 'how'."
He wants the upcoming COP28 to be a climate conference for all. In conclusion, the COP President reiterated the importance of a collective approach, saying the climate emergency is too big a problem for any industry to fight alone.