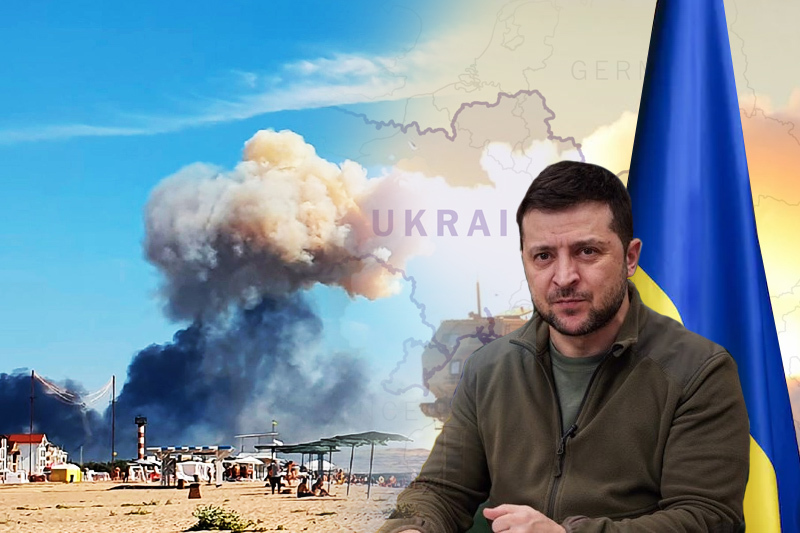 zelensky wants liberation of crimea to be end of ukraine war
Zelensky wants liberation of Crimea to be end of Ukraine war
It must end where it all began. This is the new vision of Ukrainian President Volodymyr Zelensky who wants that the war in Ukraine must come to an end with liberation of Crimea, as this is where the whole conflict with Russia began at first place. "Crimea is Ukrainian and we will never give it up", said President Zelensky of the war struck country, just few hours after series of explosions hit a Russian airbase in Crimea.
Top Ukrainian adviser has denied Ukraine being responsible for the explosions, and Russia has conveniently downplayed the damage.
What is the Crimea conflict?
Originally a part of Ukraine, Crimea was annexed in 2014 by Russia after a referendum deemed 'illegitimate' by international community. It is considered that the start of conflict that transformed into Ukraine war, has roots in conflict around Crimea. The vote was organized in a rather hasty manner, given Russian troops taking control of many strategic locations across the Crimea peninsula.
A series of explosions hit Russia's Saky military base near Novofedorivka, in the west of Crimea on Tuesday. The location of military base is near seaside resorts which are popular with Russian tourists. Footage circulating on social media shows tourists on beach running for cover as the explosions hit. According to witnesses, they heard at least 12 blasts. Russia appointed health department in Crimea said one civilian had been killed while eight others have been injured.
Without referring to the explosions in Crimea, President Zelensky said, "We will not forget that the Russian war against Ukraine began with the occupation of Crimea. This Russian war…began with Crimea and must end with Crimea – with its liberation."
If Ukraine is behind these explosions, or if any future attacks are carried out by Kyiv in peninsula, it might bring in a new trajectory to the war. Moscow will not sit kaput, as was indicated by ex-President of Russia Dmitry Medvedev, who issued a threat last month that "Judgement Day will instantly await" if Ukraine attacks Crimea.