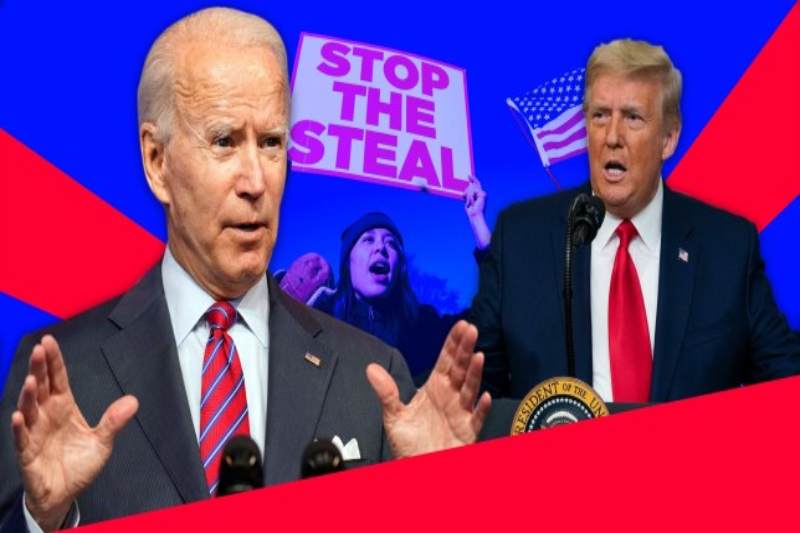 US Supreme Court turns down Trump's claims objecting to Biden's Pennsylvania victory
Last updated on December 14th, 2020 at 05:55 am
Biden's Pennsylvania Victory: On Tuesday, US Supreme Court rejected the outgoing President Donald Trump's claims challenging US President-elect, Joe Biden's win in Pennsylvania elections. Trump ally, Republican Senator Mike Kelly along with other Pennsylvania Republicans filed a case in the apex court after the November 3 presidential election on the ground that the state's 2019 deadline expansion of mail-in voting was illegal as per the state law. Kelly's lawsuit questioned validity of 2.5 million mail-in ballots and demanded the court to overturn the election result in Pennsylvania.
The Republican plaintiffs mentioned that the universal, "no-excuse" mail-in ballot program introduced in the Republican-ruling Pennsylvania legislature in 2019, enabling voters to cast ballots by mail for any reason, was a breach of the state's constitution. The mail-in ballet provision was suggested keeping in mind people's health and safety amidst the ongoing Covid-19 pandemic.
The apex court turned down the Republican plea demanding judicial intervention to invalidate Pennsylvania state's certification of its election results. The rejection was a big blow to the GOP's long-shot attempt to challenge Biden's Presidency. Trump has been making claims of wining the elections and has been throwing lawsuits to back his claim, but so far in vain. Just hours the court's verdict was about to get released, Trump made a direct appeal to state officials and members of the Supreme Court to help him in bringing out the truth and will of the voters.
"Let's see whether or not somebody has the courage, whether it's legislators or legislatures or a justice of the Supreme Court or a number of justices of the Supreme Court," Trump said. "Let's see if they have the courage to do what everybody in this country knows is right."
The court, comprising nine judges, produced one-line order that rejected the Republican party's plea. It said that the election results were already certified. Judges said that demanding nullification of the election result certification would mean to "undertake one of the most dramatic, disruptive invocations of judicial power".
The Supreme Court panel included six conservative justices — including Trump's three nominees — Neil Gorsuch, Brett Kavanaugh and Amy Coney Barrett — and three liberals. The recent judgement marked Barrett's first vote on an election-related dispute.
"This election is over. We must continue to stop this circus of 'lawsuits' and move forward," Pennsylvania Attorney General Josh Shapiro, a Democrat, wrote on Twitter.
On Tuesday, besides Pennsylvania, a similar appeal was raised in Republican-dominate Texas. The legal appeal has also made in order to overturn the election results in three other states – Georgia, Michigan and Wisconsin – by filing a direct lawsuit in Supreme Court.