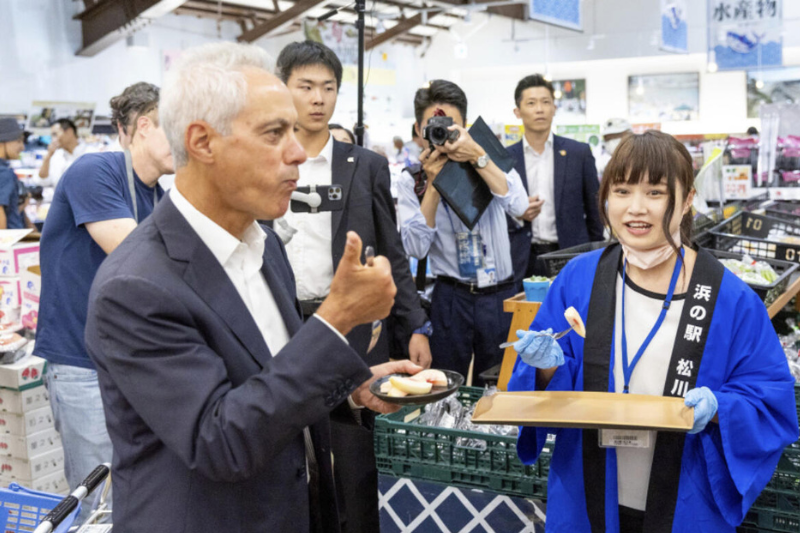 us envoy chows down on fresh fish during fukushima visit
US envoy chows down on fresh fish during Fukushima visit
US Ambassador to Japan Rahm Emanuel noshed on tuna, flounder and bass and got some more to take home during a visit to Fukushima on Thursday.
He said he had "no reservations" about doing so despite China banning all Japanese seafood imports over Tokyo's decision to release treated radioactive water from the crippled power plant.
The Fukushima Daiichi Nuclear Power Plant was badly damaged in a 2011 tsunami. Japan argues the plan is both safe and necessary, with the IAEA having already offered its approval.
The US stands firmly with Japan," Emanuel said, adding: "In a world where truth and trust are paramount, Japan's … commitment to science and transparency is a leading example."
Public Criticism From People In South Korea
Earlier this week, Japanese Prime Minister Fumio Kishida also pulled a similar stunt in order to demonstrate his confidence in Fukushima seafood safety.
Tokyo's decision to release the decade-old diluted and treated wastewater into the Pacific Ocean over the next 30 to 40 years triggered China's blanket ban last week.
The Chinese government will take all measures necessary to protect food safety and the health of the people, Chinese officials said in a statement.
The release of the treated radioactive water has also triggered public criticism from people in South Korea and other countries in the region.
Keep Reading
"Negligible Radiological Impact"
The US envoy slammed China's move in a local op-ed published ahead of the visit, calling out Beijing for "its clandestine efforts to influence other nations to isolate Japan."
He argued Tokyo has gone to extreme measures in an effort to ensure the controversial release plan met international safety and health standards.
He even highlighted the IAEA's approval, noting the UN nuclear watchdog concluded the plan would have a "negligible radiological impact" on its surroundings.
Emanuel compared "Japan's meticulous handling" of the Fukushima water release plan with "China's approach to public health challenges that have originated in its own backyard."