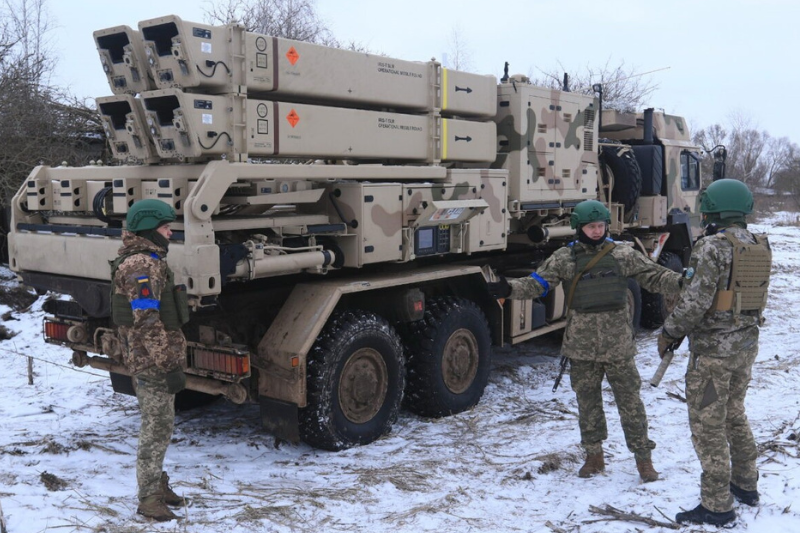 ukraine boosts defense with iris t air defense systems and f 16 jets
Ukraine Boosts Defense With IRIS-T Air Defense Systems and F-16 Jets
Europe has empowered Ukraine's defense with two IRIS-T air defense systems and F-16 fighter jets, which will strengthen the Ukrainian forces against Russia. Ukrainian President Volodymyr Zelenksy thanked Germany for supplying the weapons. He confirmed that two new IRIS-T launchers have been delivered to Ukraine. 
Germany first delivered the high-tech air defense missile systems to Ukraine in 2022 to protect the country from Russian cruise missiles. Rafael Loss, defense expert at the European Council on Foreign Relations, had said this system would enhance Ukraine's defenses significantly. "As they receive more and more sophisticated systems that can integrate into their existing systems, mass missile strikes will be more difficult for the Russians to pull off and there is a greater chance that fewer civilians and fewer military targets will be hit."
Keep Reading
The latest delivery of the IRIS-T comes after Germany agreed to supply additional Patriot air defense missile systems. Zelenksy said it will definitely bring Ukraine closer to creating a full-fledged air shield for Ukraine.
Moreover, the US has given the go ahead for sending F-16 fighter jets to Ukraine from Denmark and the Netherlands. Officials said Washington gave the two European countries official assurances that the US will expedite approval of transfer requests for F-16s to go to Ukraine when the pilots are trained. US Secretary of State Antony Blinken, in a letter to Denmark and the Netherlands, highlighted the United States' full support for both the transfer of F-16 fighter aircraft to Ukraine and for the training of Ukrainian pilots by qualified F-16 instructors. He said it remains critical that Ukraine is able to defend itself against ongoing Russian aggression and violations of its sovereignty.
Meanwhile, with bolstered defense Ukraine has managed to retake parts of Russian-controlled land in the southeastern part of the country. Ukrainian forces said its counteroffensive is advancing more slowly than it had hoped for because of Russian minefields and heavily fortified Russian defensive lines.