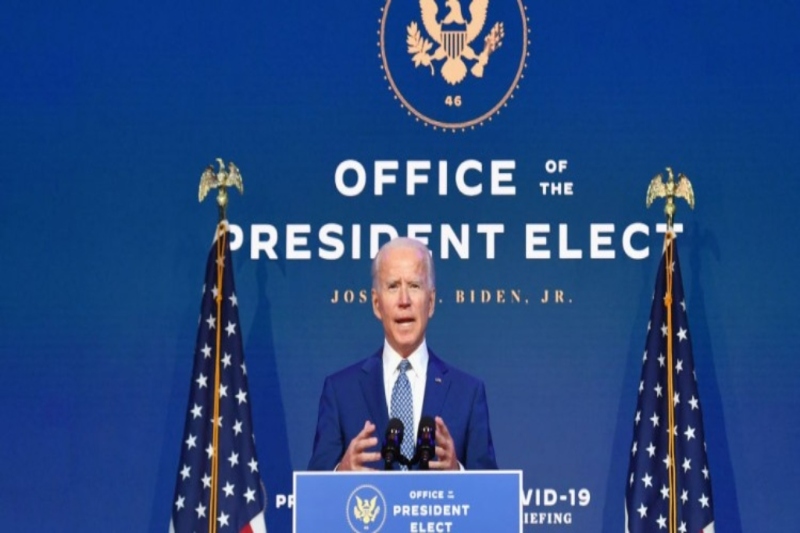 UAE congratulates Biden and places hope in his counter terrorism policy towards Middle East
Last updated on November 16th, 2020 at 07:27 am
UAE congratulates Biden and places hope in his counter terrorism policy towards Middle East: On Sunday, Sheikh Mohammed bin Rashid Al Maktoum, Vice President and Prime Minister of the UAE and Ruler of Dubai, congratulated the new US President-elect Joe Biden and Vice President-elect Kamala Harris on their US election win.
Sheikh Mohammed wrote on Twitter: "Congratulations to the President-Elect of the United States @JoeBiden and Vice President-Elect @KamalaHarris. We look forward to strengthening our five-decade enduring and strategic relations."
Sheikh Mohamed Bin Zayed Al Nahyan, Crown Prince of Abu Dhabi and Deputy Supreme Commander of the UAE Armed Forces, joined UAE ruler in congratulating the newly elected US Democrat leaders. Sheikh Mohamed took to Twitter and said, "Congratulations to @JoeBiden and @KamalaHarris on winning the US elections. Our sincere wishes for further development and prosperity for the American people. The UAE and USA are friends and allies with a strong historic partnership that we look forward to strengthening together."
On Saturday, Joe Biden was announced as 46th US President. He is the oldest elected US president, and his team mate Kamala Harris is the first female, first Black and first South Asian Vice President of the country. The news was made official after results of the states Wisconsin, Michigan and Pennsylvania were revealed, which gave him enough votes to secure the presidency.
UAE was among the first few nations who were quick to acknowledge Biden's Presidency despite controversial claims by his immediate predecessor, Donald Trump, who has challenged the legitimacy of the current presidential elections. Last week, Trump threatened to take the matter to US Supreme Court as he claimed victory in the elections even before vote count was over.
UAE has been one of the oldest allies of US which supports Washington in its endeavours to combat terrorism and promote peace all across the globe. Besides, UAE and Biden also share an old bond which goes back to the Obama administration days. During the Obama presidency, Joe Biden served as the country's Vice President and the team of two was known their fervently anti-terrorism policies, which were more agile, more transparent, and more ethical than the ones adopted by the George W. Bush administration. UAE supported Obama's new counter terrorist policy which was a break away from the overreliance characteristic of the Bush era, which led to US invasion of Iraq in 2003. That war, in turn, compromised US war against al Qaeda. UAE extended all the support to Obama administration in terms of resources, finances, and intelligence to fight ISIS, Al Qaeda and other extremist groups in the region.
Biden welcomed, the historic UAE-Israel peace agreement. In his statement over the deal, US President-elect said, "The coming together of Israel and Arab states builds on the efforts of multiple administrations to foster a broader Arab-Israeli opening, including the efforts of the Obama-Biden administration to build on the Arab Peace Initiative. I personally spent time with leaders of both Israel and the UAE during our administration building the case for cooperation and broader engagement and the benefits it could deliver to both nations, and I am gratified by today's announcement."
He also applauded the role American diplomacy in ending the decades old animosity between the two sides, as he added that both Emirates and Israel has shown keen interest in "preserving the prospects for peace in the region". But he strongly opposed the Israeli Prime Minister Benjamin Netanyahu's annexation plan and said that it "would be a body blow to the cause of peace, which is why I oppose it now and would oppose it as president". UAE and Biden shared a common ground against Netanyahu's annexation plan as UAE ambassador to Washington, Yousef Al Otaiba, wrote a detailed article in Israeli newspaper, explaining how the annexation would cause serious setback to the bettering of relations between Israel and the Arab world.
Biden and UAE both took stand favouring two-state solution for Palestinian crisis. Besdies, UAE also took a leap of faith, giving peace a chance to resolve the issues with Israel. Biden in his statement said, "A Biden-Harris Administration will seek to build on this progress, and will challenge all the nations of the region to keep pace."
During his recent election campaign, Biden emphasised that with regard to his foreign policy he would focus on re-building US ties with its allies in order to prevent any rampant friction and would always prefer to explore the power of diplomacy over other tactics.