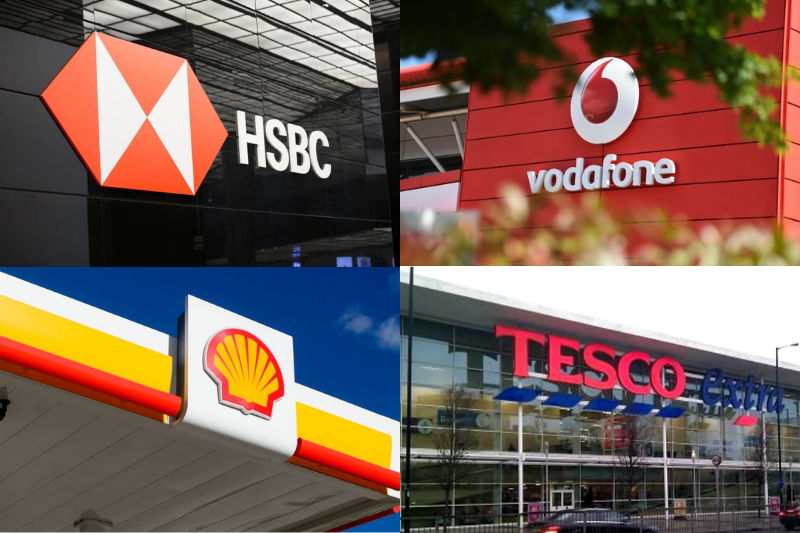 top 10 most valuable brands in the uk
Top 10 most valuable brands in the UK
Due to the mitigating effect of the Covid epidemic, the value of Britain's greatest brands plummeted by £30 billion in 2020, a drop of 8%. Despite the troubles of Covid, the current energy crisis, Brexit, and other issues, many of the UK's most well-known companies rely on the "power of their name and tradition." Express.co.uk has developed a list of the most valuable brands in the United Kingdom.
According to a recent Kantar brand analysis, the value of Britain's top brands is only just beginning to recover. The rate of recovery is faster than it was before the pandemic.
Also Read: Top 10 most powerful Navy in the world 2022
Let us take a look at the top 10 most valuable brands in the UK:
1. Vodafone: $30.9bn (£22.69bn)
Vodafone Group is a multinational telecommunications firm based in the United Kingdom. Newbury, Berkshire, England is the company's registered office and global headquarters. Its primary service areas are Asia, Africa, Europe, and Oceania.
It owns and operates networks in 22 countries as of November 2020, with partner networks in another 48 nations. It delivers telecommunications and information technology services to businesses in 150 countries.
2. HSBC: $15.6bn (£11.46bn)
HSBC Holdings is a worldwide universal bank and financial services holding corporation based in the United Kingdom. It has the greatest total assets in Europe, with US$2.953 trillion as of December 2021.
In 2021, HSBC had assets under custody (AUC) of $10.8 trillion and assets under administration (AUA) of $4.9 trillion. HSBC can be traced back to an hong in British Hong Kong, and its current form was founded in London in 1991 by the Hong Kong and Shanghai Banking Corporation to act as a new group holding company. Its name is derived from the initials of that company.
Also Read: Top 10 Most Handsome Turkish Actors You Need To Know About
3. Shell: $15.4bn (£11.31bn)
Shell is a publicly traded British multinational oil and gas business based in London's Shell Centre. Shell is a public limited corporation having primary and secondary listings on the London Stock Exchange (LSE) and the New York Stock Exchange, respectively.
It is one of the oil and gas "supermajors" and one of the world's largest corporations in terms of revenue and profits, consistently ranking in the top ten of the Fortune Global 500 since 2000. Shell was the ninth-largest corporate generator of greenhouse gas emissions between 1988 and 2015, based on both its own emissions and the emissions of all the fossil fuels it sells.
4. Tesco: $11.3bn (£8.3bn)
Tesco is a multinational British grocery and general merchandise retailer based in Welwyn Garden City, England. It is the world's third-largest retailer in terms of gross revenue, and the ninth-largest in terms of revenue. It operates stores in five European nations and is the UK's grocery market leader (where it has a market share of around 28.4 percent.
5. Lipton: $10.7bn (£7.86bn)
Unilever owns the Lipton tea brand in the United Kingdom. Lipton was also a British grocery chain that was sold to Argyll Foods after which the firm only sold tea. Sir Thomas Lipton, the company's creator, is honoured. "Pepsi Lipton International," a joint venture between Unilever and PepsiCo, sells Lipton ready-to-drink beverages.
Also Read: Top 10 powerful businesswomen of 2022
6. Sky: $10.6bn (£7.79bn)
Sky UK Limited is a British broadcaster and telecommunications firm that serves consumers and businesses in the United Kingdom with television, broadband Internet, fixed line, and mobile telephone services.
It is a Sky Group subsidiary that will become part of Comcast in 2018. It is the UK's largest pay-TV broadcaster, with 12.7 million customers for its digital satellite TV platform as of the end of 2019[2]. Sky Q and the internet-based Sky Glass are the company's flagship products, and Sky Showcase, Sky Sports, and Sky Atlantic are its flagship channels.
7. BP: $10.5bn (£7.71bn)
BP is a British oil and gas company headquartered in London, England. It is one among the world's seven "supermajor" oil and gas producers. It is a vertically integrated oil and gas corporation that is involved in all aspects of the industry, including exploration and extraction, refining, distribution and marketing, power generating, and trading.
8. BT: $10.5bn (£7.71bn)
BT Group is British multinational telecoms Holding Corporation based in London, England. It is the leading provider of fixed-line, internet, and mobile services in the UK, as well as subscription television and IT services, with operations in about 180 countries.
Also Read: Top 10 Most Beautiful Canadian Actresses; Their Beauty Will Leave You Speechless
9. Johnnie Walker: $8.3bn (£6.1bn)
Johnnie Walker (Scottish Gaelic: Seonaidh Walker) is a Scotch whisky brand that began in Kilmarnock, East Ayrshire, and is now owned by Diageo. John Walker, a grocer, was the first to launch the brand. With yearly sales of approximately 223.7 million 700 mm bottles in 2016, it is the most extensively distributed blended Scotch whisky in the world, sold in practically every country (156.6 million litres).
10. Dove: $7.3bn (£5.36bn)
Unilever, a British global consumer products business, owns Dove, an American personal care brand. Dove goods are made in different countries all over the world.
The items are available for women, men, and babies and are sold in over 150 countries. The Dove logo features a silhouette of the brand's eponymous bird. While working at Lever Brothers in the 1950s, Vincent Lamberti was granted the first patents linked to the production of Dove.