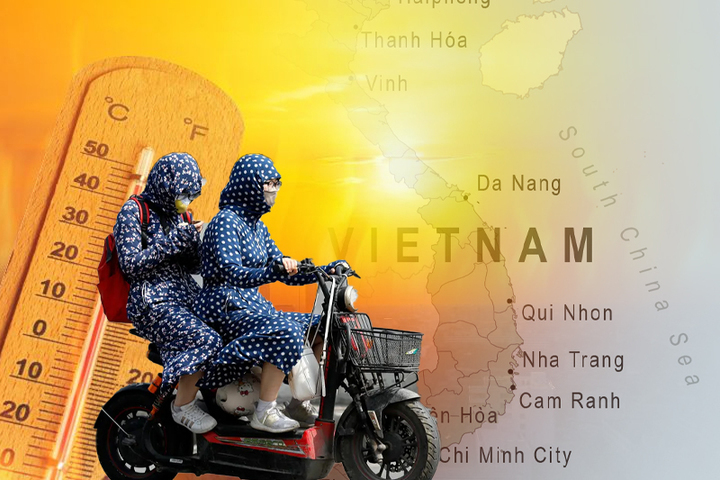 vitnannn 720
Rising Mercury: Vietnam's Scorching Heatwave Breaks All-Time Temperature Record
An alarming and unique incident occurred in Vietnam lately, serving as a harsh reminder of the critical issue of climate change. The country's hottest temperature ever was slightly over 44°C (111°F). As the searing weather reached Thanh Hoa, local officials issued warnings asking people to stay indoors during the warmest parts of the day to prevent health hazards.
Vietnam is not the only country in the region experiencing high temperatures. Thailand reported a record-equaling temperature of 44.6°C in its western Mak province, while Myanmar's media emphasized a town in the east that recorded the highest temperature in a decade at 43.8°C. Although both countries have a hot time before the monsoon season, this year's heat has broken all previous records.
The consequences of Vietnam's heatwave are highly troubling, especially in light of climate change and global warming. Nguyen Ngoc Huy, a climate change specialist, voiced concern, saying, "I believe this record will be repeated many times, confirming that extreme climate models are being proven true." The new temperature record serves as a strong reminder of the critical need to address climate change and the growing threats that it entails.
Since the beginning of the industrial period, the world has warmed by around 1.1°C, and temperatures will continue to climb unless significant steps are done to cut greenhouse gas emissions. Extreme heat is growing more common and intense as a result of global warming. To prevent the effects of climate change, governments around the world must take decisive action and significantly reduce emissions.
Keep Reading
Farmers like Nguyen Thi Lan in Vietnam's central city of Danang are feeling the brunt of the heat. Lan noted that the extreme heat is causing workers to start their days earlier than ever before, attempting to complete their responsibilities before 10:00 a.m. The heatwave not only disrupts daily life and livelihoods, but it also endangers human health and exacerbates agricultural and water resource difficulties.
This new temperature record beats Vietnam's previous high of 43.4°C, recorded just four years ago in central Ha Tinh province. The trend of rising temperatures is not restricted to Vietnam; heatwaves are also occurring in other parts of the world. Dhaka, the capital of Bangladesh, recently registered its highest temperature since the 1960s, while Indian authorities reported temperatures three to four degrees above average in several areas.
These instances are consistent with the growing body of information offered by climate scientists. In March, the United Nations' Intergovernmental Panel on Climate Change warned that the world is on track to exceed the 1.5°C global temperature goal. Multiple and concurrent hazards rise with each incremental increase in global warming, posing serious challenges to ecosystems, communities, and vulnerable populations.
The need to combat climate change has never been greater. Governments around the world must keep their promises to cut greenhouse gas emissions and shift to clean energy sources. To limit the effects of climate change, it is critical to emphasize sustainable behaviors, adopt adaption measures, and foster international collaboration. Only by working together can we hope to protect our planet and provide a sustainable future for future generations.