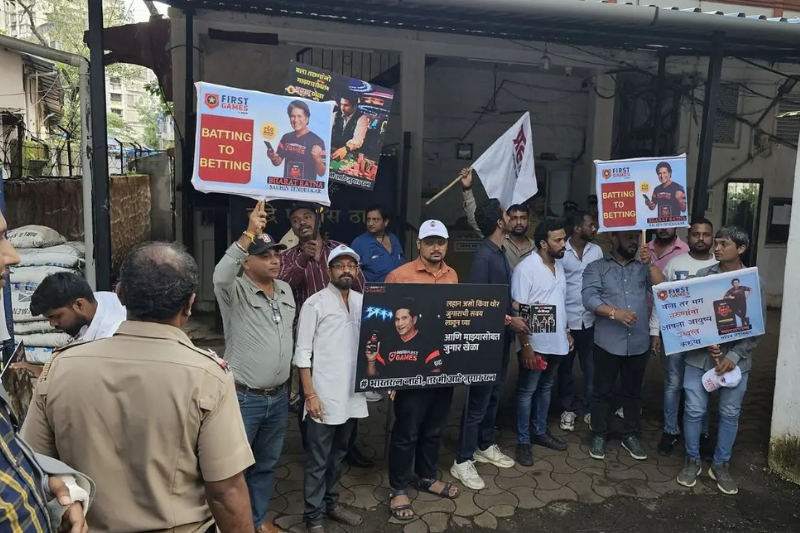 protests outside tendulkar's residence over online gaming ad
Protests outside Tendulkar's residence over online gaming ad
Bandra Police had to step in Thursday as independent MLA Omprakash Babarao alias Bacchu Kadu's party workers staged a massive demonstration outside the house of Sachin Tendulkar to oppose the legendary cricketer's involvement in online gaming advertisements.
The protesters were eventually detained and taken to Bandra Police Station. The unrest comes just a couple of days after the former Minister of State in Government of Maharashtra threatened Tendulkar with court notice for promoting online gaming.
Bachchu Kadu has accused the Indian former international cricketer who captained the national team of "sending a wrong message to the youth of the country," stressing he would have refrained from demonstrations had Tendulkar not been awarded Bharat Ratna.
Considered India's highest civilian award, the Bharat Ratna recognises "exceptional service/performance of the highest order", conferred without distinction of race, sex, position or occupation. In 2014, Tendulkar became the first sportsperson to receive the prestigious award.
Keep Reading
The cricketer should return the Bharat Ratna "if he wants to earn Rs 300-crore by promoting such things," Kadu said. A few days back, the independent MLA had even delivered a letter to the state's Chief Minister Eknath Shinde on the matter.
Continuing, Kadu stressed he was compelled to send Tendulkar a legal notice after he did not respond to his appeal to withdraw from the Paytm First Game promotional campaign. "We had given him time till the 30th [of August]," he mentioned.
Paytm First Game is a fantasy gaming application that allows users to engage in online games and win Real Cash amount. Similar demonstrations were recorded outside Bollywood star Shah Rukh Khan's residence 'Mannat' last week, triggering heavy security deployment.