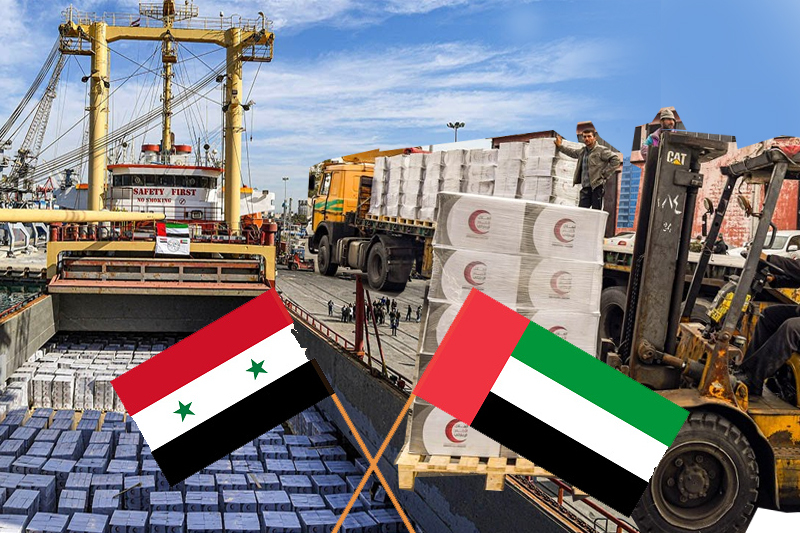 Operation Gallant Knight 2: UAE delivers 37,500 food parcels to quake-hit Syria
Operation Gallant Knight 2: UAE delivers 37,500 food parcels to quake-hit Syria
A United Arab Emirates aid ship carrying 37,500 food parcels arrived at the Syrian port of Latakia on Monday, under the directive of the Ruler's Representative in Al Dhafra Region and chairman of the Emirates Red Crescent Authority, Sheikh Hamdan bin Zayed.
It is part of the Gallant Knight 2 operation launched by the UAE's Joint Operations Command of the Ministry of Defence, under the directives of President HH Sheikh Mohamed bin Zayed Al Nahyan. In coordination with the Syrian Arab Red Crescent, the food parcels will be sent across the disaster zones.
The 1,000 tonnes of supplies is the largest amount delivered in a single run to the Syrian port and is part of the humanitarian flights launched by the Emirates since the devastating February 6 earthquakes in the country and neighbouring Turkey. While the combined death toll has already crossed 50,000, millions of survivors have become homeless.
Keep Reading
The delivery was part of the contributions made by the Emirates' wise leadership to ease the disastrous consequences of the earthquakes, said Dr Hamdan Al Mazrouei, chairman of the board of directors at the ERC.
In connection with its continued support and solidarity with Syria, the UAE has sent 151 flights carrying 4,925 tonnes of emergency relief supplies since February 6. Dr Al Mazrouei offered assurances that the affected Syrians will continue to receive aid by air and sea.
Another ship carrying more essential aid would arrive at Latakia over the coming days, he further mentioned.
Tayseer Habib, chairman of the Latakia Governorate Council, expressed Syria's appreciation for the proactive role of the UAE leadership and the ERC in supporting the affected survivors. The Emirates is among dozens of countries that have come forward to support search and rescue operations in the disaster zones and provide urgent relief supplies to those impacted.
The assistance reiterates the Mideast nation's commitment to its humanitarian obligations.
Also Read:- Michelle Yeoh becomes the first Asian woman to win best actress Oscar