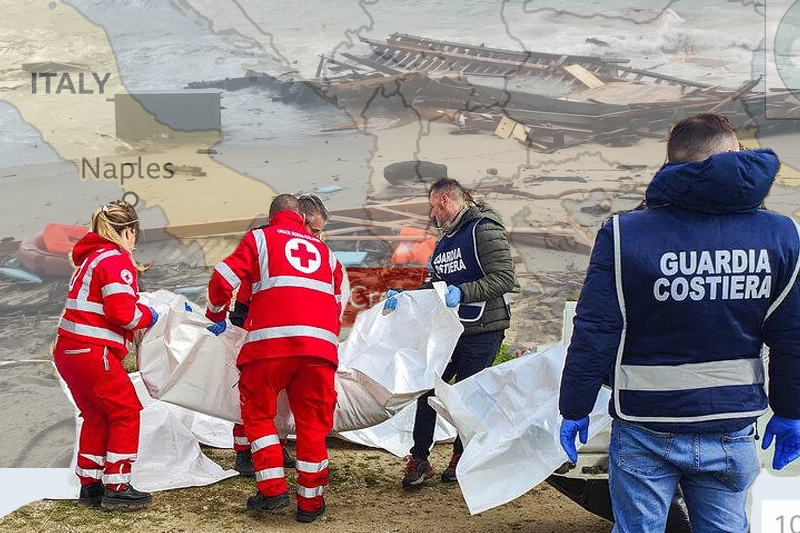 Nearly 60 killed as boat carrying migrants, refugees sinks off Italy
Nearly 60 killed as boat carrying migrants, refugees sinks off Italy
At least 59 migrants, including 12 children, have died and scores more are feared missing after their boat broke apart while trying to land near the Italian coastal city of Crotone in the southern region of Calabria.
81 people survived, including 20 hospitalised, the Reuters news agency quoted Manuela Curra, a provincial government official.
At least 150 people were aboard, survivors mentioned. However, the exact number is still unclear – rescue workers told the AFP news agency that "more than 200 people" were on the boat when it broke apart.
The vessel, which had set sail from Turkey several days back, was carrying migrants from Iran, Afghanistan, Pakistan, and Somalia. Identifying the nationalities of the dead was pretty challenging, Curra added.
"Many of these migrants [fled] conditions of great hardship," Italian President Sergio Mattarella said.
Keep Reading
Prime Minister Giorgia Meloni expressed "deep sorrow" over the incident and blamed the casualties on traffickers. One survivor in the incident has been arrested on migrant trafficking charges, customs police informed.
Italy is considered one of the most significant landing points for migrants attempting to enter Europe by sea. At least 2,836 people died last year – and monitoring groups say over 20,000 have died or gone missing since 2014 – trying to cross the Central Mediterranean, a route infamous for being the most dangerous migrant crossing in the world.
The latest incident comes just days after Meloni's right-wing government pushed through parliament a controversial new law tightening the rules on rescuing refugees and migrants. The prime minister was elected last September partly on a promise to stem the flow of migrants into the country.
Following the incident, Regina Catrambone, director of the Migrant Offshore Aid Station, called for greater cooperation among European countries to better help those in need, urging governments to work together to develop safe and legal routes and improve search and rescue operations.
Also Read:- Why Russia's invasion of Ukraine divides Africa