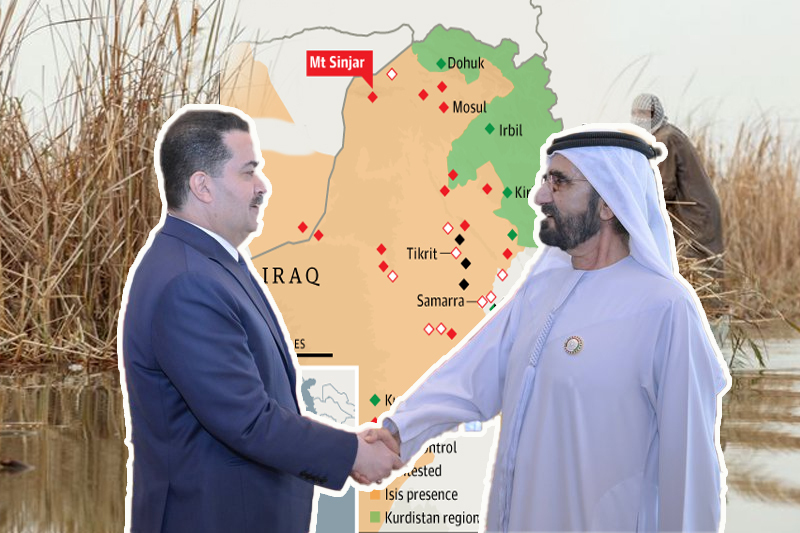 Nadia's Initiative: Iraqi PM in UAE as Abu Dhabi announces water project in Sinjar
Nadia's Initiative: Iraqi PM in UAE as Abu Dhabi announces water project in Sinjar
Iraqi Prime Minister Mohammed Shia al-Sudani met UAE President Sheikh Mohamed bin Zayed Al Nahyan on Thursday to discuss bilateral cooperation and international developments. It comes as the capital city of Abu Dhabi allocated $500,000 towards water infrastructure in western Iraq's Sinjar – as part of the second phase of the project in coordination with Nadia's Initiative.
The initiative – led by human rights activist and recipient of the 2018 Nobel Peace Prize Nadia Murad – works on development in Sinjar. Murad is the first Iraqi and Yazidi to be awarded a Nobel Prize. In 2014, she was kidnapped and forced into sexual slavery, and was held captive by the Islamic state for three months.
Islamic State attacked the Yazidi community in Sinjar, Kurdistan, in 2014. Thousands were enslaved or killed in the attack, widely described as genocide against the community. The area was liberated the following year, but scores of Yazidis continue to live in displacement camps and many of them have expressed reluctance towards returning to the city, in part due to poor services there.
Keep Reading
The first phase of the project was a success. Clean water and sanitation were provided to six villages in Sinjar, for the benefit of over 81,000 people, a UAE official mentioned. Through the second phase of the project, nine additional villages are expected to receive improved water supply and access to sanitation facilities, he added.
For her part, Nadia Murad expressed her sincere appreciation to Sheikh Mohamed for his initiatives and support.
Sheikh Mohamed and Sudani specifically discussed ways the Emirates and Iraq could further work together in the areas of economy, trade, investment, and development sectors to advance progress and prosperity.
Read| Turkey-Syria Quake: Death toll passes 20,000, UN warns of second disaster
The two countries have been improving trade relations in recent years. According to Sudani, the Emirates is one of Iraq's prominent trading partners, with the volume of trade exchange surpassing $16 billion.