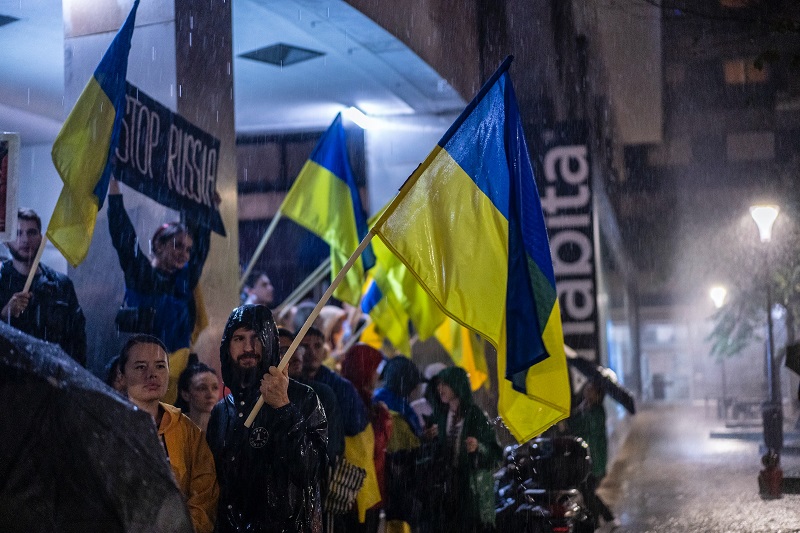 Kyiv's 10-Point Peace Formula Amid Escalating Ukraine-Russia Tensions
Kyiv's 10-Point Peace Formula Amid Escalating Ukraine-Russia Tensions
Tensions in the continuing conflict between Ukraine and Russia have increased due to recent maritime drone assaults by Ukrainian forces on Russian ships. At discussions in Jeddah, Saudi Arabia, Ukrainian President Volodymyr Zelenskyy offered a 10-point peace formula as a possible solution, even as Moscow threatened punishment. The consequences of the attacks, the significance of Kyiv's peace formula, and the attempts to find diplomatic solutions in the face of rising hostilities are all covered in this article.
Moscow has been deeply alarmed by the drone assaults on Russian ships, which prompted spokesperson for the foreign ministry Maria Zakharova to call the actions "barbaric" and pledge reprisal. Russian forces attacked Ukraine in multiple waves throughout one night, causing death and destruction; the Ukrainian Air Force asserts that it shot down the majority of the drones and cruise missiles that were launched. A blood transfusion clinic in Kupiansk was damaged by a bomb, according to Ukrainian President Zelenskyy, who called it a war crime.
Keep Reading
Ukraine has continued its diplomatic efforts despite the continuous hostilities. Delegates from Ukraine submitted a 10-point peace plan to stop the war at negotiations in Jeddah, Saudi Arabia. The formula strongly emphasises respecting international law and re-establishing the global order that Russian aggression has shattered. This equation, in the opinion of President Zelenskyy, may be advantageous to all nations and increase world security.
The peace plan put forth by Kyiv offers a diplomatic solution to the conflict as an alternative to military escalation. Ukraine aims to win over the 42 represented nations at the summit by making international law a top focus. However, as bilateral negotiations are essential to arriving at a comprehensive agreement, Russia's absence from the talks creates serious difficulty.
Recent naval drone assaults on Russian ships have intensified hostilities in the Ukraine-Russian war as emotions grow. The 10-point peace plan presented by President Zelenskyy at negotiations in Saudi Arabia indicates Ukraine's dedication to pursuing a diplomatic settlement to the crisis. Even while the formula highlights the value of international law and global security, there are challenges because Russia was not involved in the negotiations. International actions will be essential in de-escalating the violence and promoting long-term peace in the region as the situation develops.