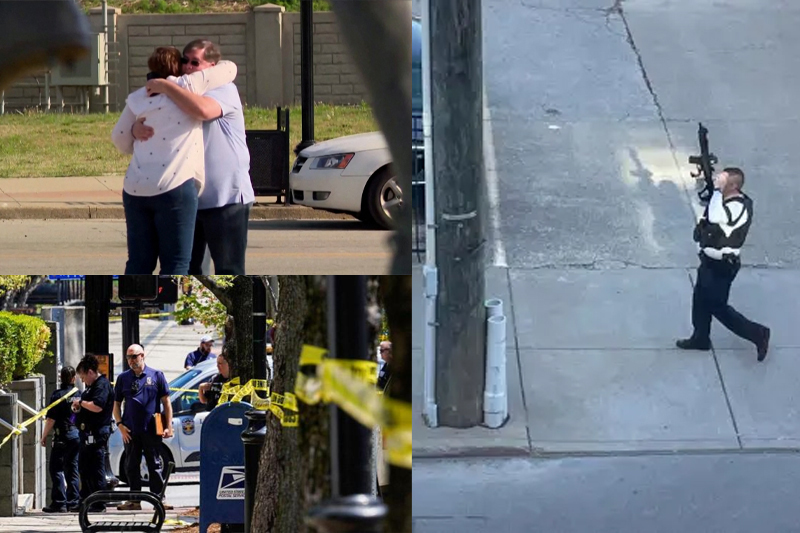 Kentucky bank employee shoots dead four colleagues, one police officer still critical
Kentucky bank employee shoots dead four colleagues, one police officer still critical
Four people were killed when an employee, identified as 23-year-old Connor Sturgeon, opened fire at the Old National Bank in Louisville, Kentucky, while live-streaming the attack on Instagram.
Among nine others injured was Louisville Metro police officer Nickolas Wilt, who graduated into the force just a couple of weeks ago. The 26-year-old was struck in the head and is still in critical condition after brain surgery.
The shooting took place at about 08:30 local time with police responding within three minutes and fatally shooting the suspect in an exchange of gunshots. The victims have all been identified: Joshua Barrick, 40; Julianna Farmer, 45; Thomas Elliot, 63; and James Tutt, 64.
Kentucky Governor Andy Beshear said an "incredible friend" of his was among the victims. Elliot, a senior vice-president at the bank, "helped me build my law career, helped me become governor, gave me advice on being a good dad," Beshear added.
Police said the suspect used a rifle during the incident and was broadcasting the shooting on social media. Instagram's parent company Meta said it had "quickly removed the livestream… this morning".
Keep Reading
Officials say the attacker had no previous contact with law enforcement. He joined Old National Bank as a full-time employee in 2022 after working as an intern there.
The tragic incident took place just a couple of weeks after a heavily-armed attacker shot dead six people, including three children aged nine and under, in an elementary school in Nashville, 260 km south of Louisville.
The updated data from the Gun Violence Archive shows the US has been rocked by at least 146 mass shootings so far this year, including a minimum of 15 since the beginning of April.
Also, at least one person was killed and one wounded in another unrelated shooting Monday morning less than 2 miles away from the incident at the bank.
Joe Biden took to Twitter on Monday saying "When will Republicans in Congress act to protect our communities?" The president and democrats have long been pushing for Congress to push stricter gun safety legislation.
But most Republican lawmakers, who often represent communities that support expanded gun rights, have opposed these efforts. In fact, Kentucky is one of 26 states where most adults over 21 years old do not require a licence to purchase and carry a firearm.