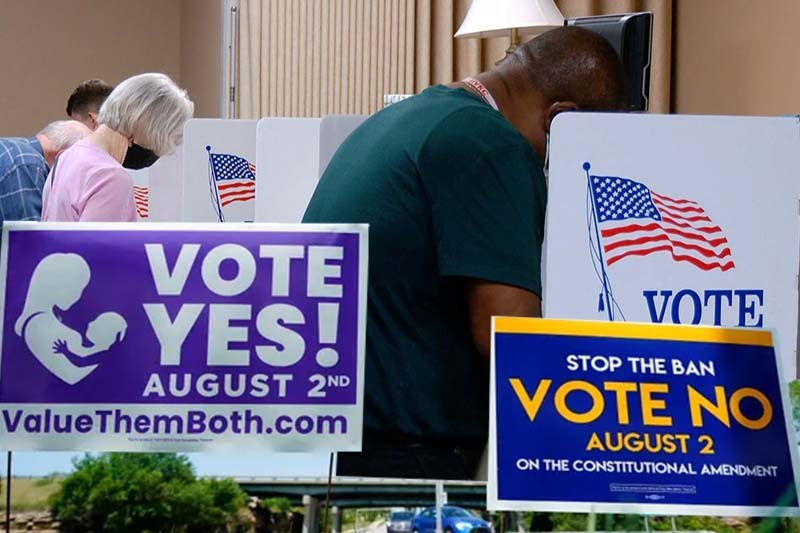 kansas voters protect right to abortion
Kansas voters protect right to abortion
On Tuesday, Kansas voters made a remarkable history by overwhelmingly rejecting a proposed constitutional amendment that would have removed abortion rights in the state. The decision marks a big win for women rights and is welcomed by the abortion right activists. This was also the first time that voters had cast ballots on abortion rights in the US since Roe Vs Wade was overturned by the Supreme Court in June.
What did the ballot hold?
Ballot question, known as "Value Them Both Amendment" was presented to voters to decide if the constitution of Kansas state must continue to protect the abortion rights of women. The proposed amendment, if passed, would have "removed language that guarantees reproductive rights and asked voters if they prefer to put the issue of abortion in the hands of the state's Republican-controlled legislature — an outcome that abortion advocates said was all but certain to result in the elimination or curtailment of those rights", NBC noted.
Also Read: Why Does Winona Ryder Have No Child? The Untold Story About Michael Horowitz' Daughter
A "yes" vote on the measure would remove right to abortion from the Kansas state Constitution, while a "no" vote on the measure would make no changes, thereby keeping abortion rights enshrined in the Constitution of Kansas state.
What the vote means for Biden Presidency?
Ahead of the mid-term in November, this win in favor of Democrats who march ahead in favor of the abortion rights, is significantly important. It also reiterates a positive outcome for Biden Presidency that has been surrounded by criticism over multiple issues recently.
"This vote makes clear what we know: the majority of Americans agree that women should have access to abortion and should have the right to make their own health care decisions," President Joe Biden said in a statement. "And, the American people must continue to use their voices to protect the right to women's health care, including abortion."
A warning for Republicans
Though the first state to vote out amendment to remove abortion rights, the Kansas vote has issued a fair warning to Republicans who had rejoiced ruling by Supreme Court to overturn Roe Vs Wade. "Kansans bluntly rejected anti-abortion politicians' attempts at creating a reproductive police state," said Kimberly Inez McGuire, executive director of Unite for Reproductive & Gender Equity. "Today's vote was a powerful rebuke and a promise of the mounting resistance."
Also Read: Beyonce to remove offensive lyric from Heated song after disabled community outcry
Celebrating the outcome of vote, NARAL Pro-Choice America's president, Mini Timmaraju said, "Reproductive freedom is a winning issue, now and in November. Anti-choice lawmakers take note: The voters have spoken, and they will turn out at the ballot box to oppose efforts to restrict reproductive freedom."