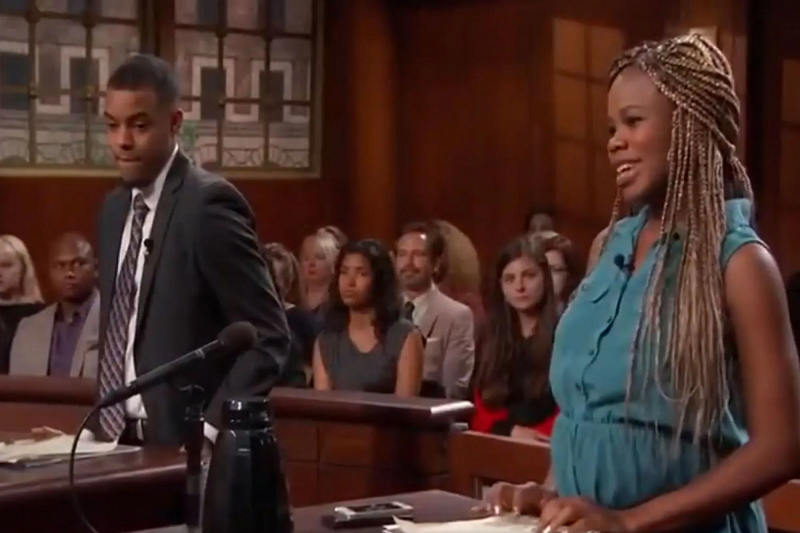 judge judy featured man accused of locking woman in makeshift cinderblock cell
Judge Judy Featured Man Accused of Locking Woman In Makeshift Cinderblock Cell
In the 2018 episode, Judy supported Negasi Zuberi—the man recently charged with kidnapping—after he presented a video showing an apparent physical altercation between him and his wife.
Negasi Zuberi made an appearance on a Judge Judy episode in 2018 years before he was detained by the FBI on suspicion of kidnapping.
Before he made headlines last week when a woman who was allegedly sexually assaulted and held in a cinderblock cell in his Oregon home escaped and reported him to authorities, a video from his incident was coincidentally posted online and distributed through Facebook last month.
The FBI claimed that they have connections between Zuberi and additional violent sexual assaults in at least four states, and he was charged with one count of interstate kidnapping.
The mother of his children and wife, who was carrying their second child at the time of the 2018 appearance, faced off against Zuberi, who was then using the alias Justin Hyche, one of the three the authorities had flagged.
The argument that broke out in front of a live audience in court started when his wife arrived to pick up their infant son from the hospital. In the video he posted from the alleged incident, the two can be seen arguing before she appears to swat his phone and can be heard throwing a glass bottle. Police didn't believe him when he told Judy that his wife had hit him with a bottle three times in the head. After spending two days in jail, Zuberi claimed he was arrested even though he claims to have called the police, and the charges were ultimately dropped.
In the video, his wife alleged that he was "drunk," as he repeatedly told her to leave. Additionally, he stated that he had a restraining order against her.
When it was her turn to speak, Zuberi's wife revealed that the co-parenting schedule was fairly consistent and that she was scheduled to pick up her son at 6 o'clock. She informed Judy that she would be a little bit late because I had gone to get my nails done, but she didn't arrive until after 11 o'clock. She claimed that he had also been physically abusive and that because she was pregnant at the time, she had called an ambulance to check her blood pressure.
Keep Reading
After calling her story "baloney," Judy questioned Zuberi about the child's parentage. Before Judy dismissed the wife's counterclaim and ruled in Zuberi'favorur, he said there might be a chance. He received a $2,500 award for damaging property, but Judy told him that she would have given him money for a false arrest instead because she didn't believe there was any other reason why he should have been detained other than the fact that the police in New York are sometimes scared arrests if there is a report of domestic violence.
According to NBC News, the actress from the episode later got a restraining order against Zuberi after accusing him of threatening to kill her and their two kids.
The Portland Field Office of the FBI made the announcement of Zuberi's arrest on Wednesday, outlining the horrifying accusations against him and requesting assistance from the public in locating additional potential victims.
From his home in Klamath Falls, Oregon, Zuberi allegedly traveled to Seattle, Washington, where he hired a sex worker before assuming the identity of an undercover police officer, according to the FBI's citation of court documents. The victim claims that after telling her she was being arrested and brandishing a taser at her, he put her in handcuffs and leg irons, took her back to his house, and claimed he "needed to take her for processing."
She claimed that she was sexually assaulted and raped on the flight back to Oregon.
The victim claimed that after returning to Oregon, Zuberi then placed her in a "makeshift cell" he built in his garage, complete with a door that could not be opened from the inside. According to AP, a criminal complaint stated that the victim told police she briefly dozed off unrealized she would probably die if she did not make an effort to flee. She pounded on the door until some of the welded joints gave way, giving her enough room to slip out.
After "screaming for help," she fled the house and flagged down a passing driver, who wh dialed 911.
Following the issuance of a search warrant for Zuberi's home, the neighborhood police discovered her purse and the cell that the victim had described. By this time, according to the authorities, the suspect had already escaped to Reno, Nevada, along with his wife and one of his children. He was found the following day after "a brief standoff with local police," who were able to locate him thanks to mobile technology.
Whether the woman with him is the same as the one from the episode is unknown at this time.