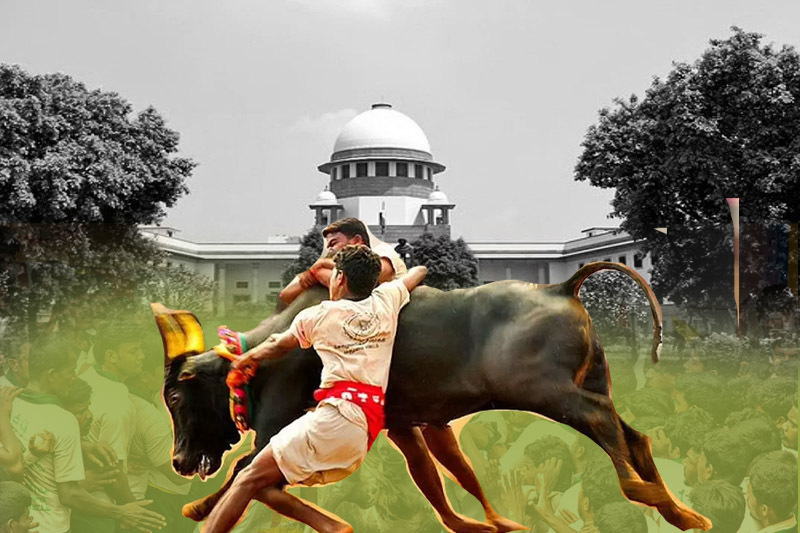 Jallikattu: The Supreme Court upholds the legality of a Tamil Nadu law that permits the sport of bull-taming
Jallikattu: The Supreme Court upholds the legality of a Tamil Nadu law that permits the sport of bull-taming
The controversial bull-taming festival known as Jallikattu, which is celebrated in the southern state of Tamil Nadu, has been approved by the Supreme Court of India.
The procedure, initially outlawed by a court in 2006, was once more made legal by the state in 2017 thanks to an amendment.
This was contested in front of the highest court by animal rights organizations, including People for the Ethical Treatment of Animals (PETA).
The Indian Constitution was not violated, the Supreme Court ruled on Thursday.
Jallikattu's protection under Tamil Nadu law was upheld by a five-judge Constitution bench of the Supreme Court in its ruling.
The court stated, "The judiciary cannot take a different view when the legislature has declared that Jallikattu is part of the cultural heritage of the Tamil Nadu state.
The court rejected petitions challenging the constitutionality of the laws in Karnataka and Maharashtra, which allowed festivals featuring bull-taming and bull-racing, in addition to Tamil Nadu.
Keep Reading
Jallikattu, which dates back more than 2,000 years and is one of the oldest sports still played in the modern era, is played during the Tamil harvest festival of Pongal.
To win a prize, bullfighters must manage to hang onto the bull's hump for three jumps of the bull, or about 15-20 meters, after it is let loose from its pen. If no one wins, the bull triumphs.
Numerous participants have died while competing over the years from being gored or crushed to death. Hundreds of people, including onlookers, have been hurt.
Animal rights advocates have also claimed that the sport is cruel to the animals, but supporters have defended it as an essential component of their cultural heritage. Additionally, they claim that the bulls were well-cared for and that the sport guaranteed the survival of local breeds.
After a young spectator was killed by a bull attack in 2006, the Madras High Court in Tamil Nadu first outlawed the practice.
In 2014, the Supreme Court outlawed it because it was cruel to animals.
The Tamil Nadu government temporarily lifted the ban in 2017 after the state was rocked by protests in favor of the sport.
The state legislature subsequently changed the law to permit the sport to continue to be played.
However, organizations like PETA contested the amendment in court, claiming it was illegal and unconstitutional.
The Tamil Nadu government described Jallikattu as "not merely an act of entertainment or amusement but an event with great historical, cultural, and religious value" during the Supreme Court hearings.