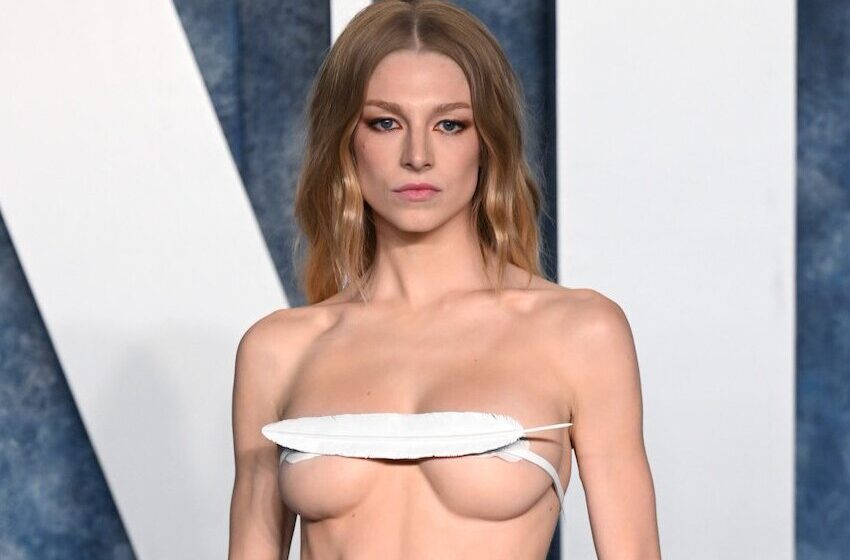 hunter schafer wears a single feather as a top at the vanity fair oscar party
Hunter Schafer wears a single feather as a top at the Vanity Fair Oscar Party
The next time you see a single feather blowing in the wind, allow Hunter Schafer of Euphoria to inspire you to create a top.
On Sunday, March 12, the 24-year-old model and actor attended the Vanity Fair Oscars after-party wearing a top consisting of a single white feather fastened by a matching white string and perhaps tape. Schafer is known for her daring fashion style (after all, she is on Euphoria), but this is a new level for her.
The actor matched the top with a satin mermaid-cut, low-rise maxi skirt and white platform heels. Schafer's glam makeup consisted of smokey cat eyes, contoured cheeks, and a soft pink lip. She wore her dark blonde hair in beachy waves that just touched the waistband of her skirt.
Keep Reading
Hunter Schafer attended the VF after-party in elf cosplay last year. She donned a bleached denim dress and tucked two blonde strands behind her ears, similar to a character from The Lord of the Rings.
She came to the event with Dominic Pike, with whom she has been in a relationship since the beginning of the year.
"An eye look is where I feel the most comfortable exploring because [my eyes] are already so expressive," she told Glamour UK in 2022 regarding her preferred beauty styles. "That is where facial expression belongs. Making drawings or forms around my eyes is one of my favorite activities and helps me feel like I've expressed myself. Even creating a truly delicious color combination with different eye makeup is cool. My cosmetics and hairstyle are determined by my mood. It depends greatly on the day."
So, how did she feel at the after-party last night? If I had to guess, I would say "free as a bird."