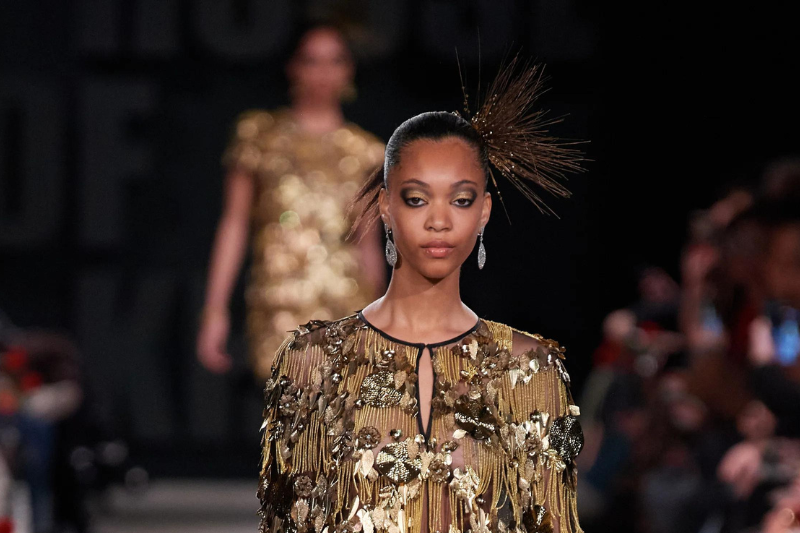 glamour, glitz, and a dash of stardom nyfw 2023 promises unforgettable moments
Glamour, Glitz, and a Dash of Stardom: NYFW 2023 Promises Unforgettable Moments
The city that never sleeps is getting ready for another week of spectacular fashion, A-list celebrities, and unforgettable parties as New York Fashion Week approaches. Due to certain significant highlights on the schedule, the fashion extravaganza is already buzzing with excitement this year.
Pamela Anderson: The New Face of Pandora
The legendary Pamela Anderson's presence at NYFW 2023 is one of the most eagerly anticipated moments. She's not just there; she's also the brand's new spokesperson for jewelry. Expect all eyes to be on Pamela as she visits the event on Lafayette Street, joined by other renowned performers including Julia Fox, "Barbie" sensation Hari Nef, and the alluring "Little Mermaid" heroine Halle Bailey. Wow, such star power!
Eric Adams: The Party-Loving Mayor
Who said that politicians couldn't have fun? During NYFW, Mayor Eric Adams will once again serve as host to the industry's elite. He understands how to mix work and leisure while making sure the city's most stylish residents have a great time.
The Daily Front Row: A Bash at the Hard Rock Hotel
This year is no exception to The Daily Front Row's reputation for lavish celebrations. With DJ Isaac Likes playing the newest music, the Hard Rock Hotel is the place to be. Prepare to party all night long with the best in the business.
Style and Awards from Harlem's Fashion Row
The "Fashion Show & Style Awards" presented by Harlem's Fashion Row will take place at the Apollo Theatre. It's a celebration of skill and flair rather than merely a runway. Be ready to be impressed by the awards celebrating the best in the fashion business and be astounded by the designs.
Keep Reading
Mulberry NYFW Debut
Fashion company Mulberry is making its New York Fashion Week debut, and you can know they're going all out. Expect stylish decor and a setting that reflects the brand's classic elegance.
Emily Ratajkowski Joins AG Jeans
AG Jeans is going all out for its NYFW party at the Highlight Room, and who better to appear at the event than Emily Ratajkowski. It's the perfect union of denims.
Evangelista and Steven Meisel: A Legendary Partnership
Fashion aficionados are eagerly anticipating the collaboration between iconic photographer Steven Meisel and supermodel Linda Evangelista, even if it won't take place during NYFW. It will undoubtedly be a creative masterpiece that has a lasting impact on the field.
Prepare your Instagram feed for some jaw-dropping moments and put on your best stunning attire. NYFW 2023 promises to be a week of glitz, star power, and all the other things that only the world's fashion capital can offer. Don't miss out on the excitement, fashion, and priceless memories.