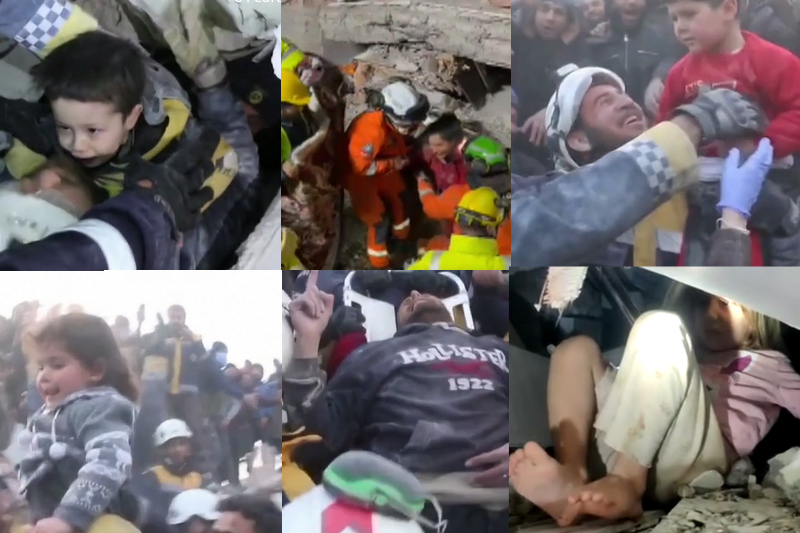 Four stunning rescues in Turkey and Syria amid earthquake chaos
Four stunning rescues in Turkey and Syria amid earthquake chaos
Last updated on February 13th, 2023 at 03:55 am
Search and rescue operations across Turkey and neighbouring Syria have seen a series of remarkable rescues. Emergency crews pulled a number of people from the rubble. While some were almost unscathed, some were rescued four days after deadly earthquakes and aftershocks killed more than 24,000 people in the two countries.
Although freezing conditions and damage to roads and airports have hampered the response of aid and rescue personnel, the crews have shown immense courage and perseverance. More than 70 countries have pledged support for the victims, sending tonnes of food supplies and medical supplies, in addition to search and rescue teams, and medical teams.
Keep Reading
4 Remarkable Rescues
A 10-day-old boy, named Yagiz, and his mother were rescued from debris in Turkey's southern Hatay province almost 90 hours after the catastrophe struck.
New-born Yagiz was carefully retrieved from a ruined structure and was pictured wrapped in a thermal blanket while being carried to an ambulance to get treated.
The rescue, described by local media as miraculous, comes as hopes fade of finding more survivors.
Emergency crews on Friday, in another stunning rescue, pulled a family of six from a collapsed building in Turkey.
The six people, all relatives, spent 101 hours beneath the rubble.
They survived by huddling together in a small air pocket left within the collapsed structure, search and rescue worker Murat Baygul mentioned.
Trapped for 94 hours near the epicentre of the quake in the city of Gaziantep, a 17-year-old said he had been forced to drink his urine to survive.
His friends and relatives were seen crying tears of joy as he was being pulled out and placed on a stretcher.
"I swear to you, I have not slept for four days … I was trying to get you out," a rescue worker called Yasemin told the teen.
A video shared by The White Helmets, a volunteer organisation that functions in Syria and Turkey, shows a little boy beaming with joy as he was rescued from the ruins of a destroyed house in Syria's Idlib on the first day of the earthquake.
Rescue workers were seen enthusiastically cheering for Karam as he playfully pulls their cheeks and plays with them.
Read: Sheikh Fatima pledges AED50 million for quake victims in Turkey, Syria
Scores of netizens were filled with hope after watching the video and hailed the "feisty little one's" indomitable spirit.