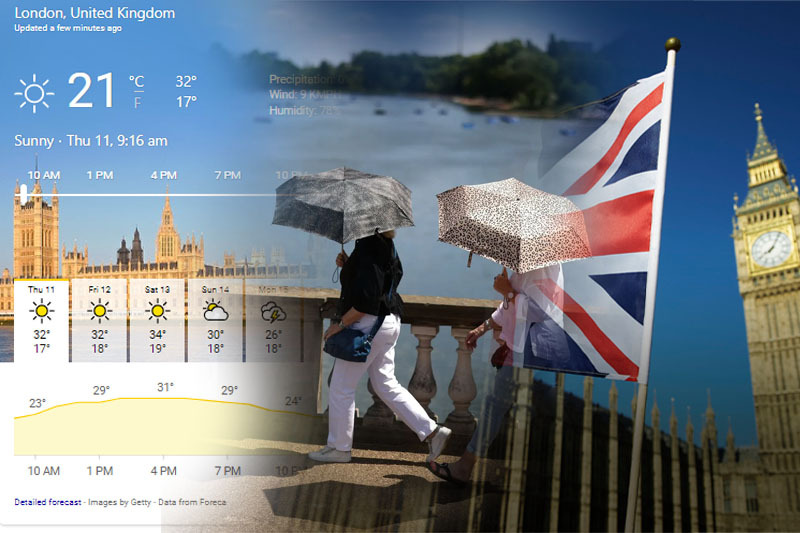 four day extreme heatwave warning in uk
Four day extreme heatwave warning in UK
The Met Office of United Kingdom has issued alert for southern and central parts of England and areas of Wales, starting from midnight on Thursday till Sunday. The met department has also issued its "highest alert for fire severity over the weekend, warning there is an exceptional risk of blazes" that can spread in many places.
The heatwave is projected to affect health, transport and working conditions across the regions with issued warning. The Met Office has also warned that there is an increased risk of incidents related to water safety. "While the record breaking temperatures seen in July, when the mercury topped 40C (104F) for the first time, are not expected this week, the heat in some areas could get close to local or regional records," the office said.
Also Read: Top 10 most valuable brands in the UK
"This heatwave, temperatures won't be as high. But the big difference with this current heatwave is that it's much more prolonged," said Matt Taylor, a BBC Weather forecaster. "We've already seen temperatures above 30C every day this week – Monday, Tuesday and Wednesday – and that will continue until Sunday." He added that temperature across regions near Midlands and London can reach 35 C with chances of rising up to 37 C. Cardiff in Wales might also record temperatures more than 30 C. "Scotland and Northern Ireland meanwhile are likely to be cooler with highest temperatures in the mid-20s," the Met Office says.
Also Read: Top 10 Jewellery Brands In India For 2022
The Met Office's fire severity index, that determines the probable severity of blaze, is at present "very high" for most parts of England and Wales. This is expected to rise to level of "exceptional", which is the highest level of risk, by this weekend for parts of England and Wales. Furthermore, a warning for "very high" risk of wildfires has been issued until Monday for areas across southern and eastern Scotland. The rising climate change and resultant varied patterns of normal process like rainfall have led to rising temperatures across the country and world.