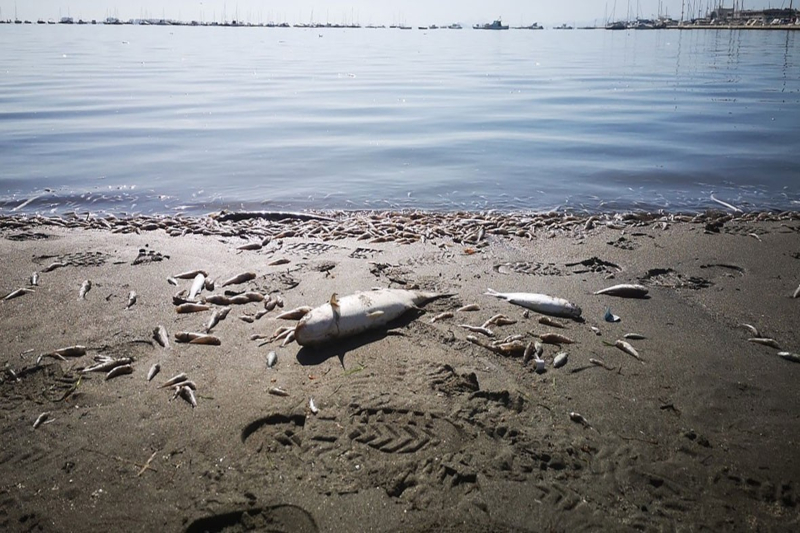 fish deaths in the menor sea
Fish deaths in the Menor Sea worsen and now it becomes a political issue for Spain
The death of thousands of fish and crustaceans that have been recorded for several days in the salt lagoon of the Menor Sea, in the Murcia region, represents an "authentic natural tragedy" which is the "consequence" of "many years of lack of intervention and permissiveness of actions. harmful to the environment ". So, the spokeswoman for the Spanish government, Isabel Rodríguez, argued at a press conference in response to an ecological crisis that enormously worries inhabitants of the affected area, experts, and environmentalists.
The causes of what is happening are being studied. Still, it is feared that, as has already happened in similar episodes in the past, the determining factor is a phenomenon of anoxia (lack of oxygen) which would affect harmful discharges caused in particular by intensive agriculture in the area and causing eutrophication (excess of nutrients harmful to the fauna of a given ecosystem), a circumstance denied by the sector. Since the death of fish began, Spanish environmental authorities collected about 5 tons of dead organisms have already been collected.
For years, environmental groups active in the area have been denouncing how the waters of the Menor Sea are subject to episodes of pollution caused by the intensive agricultural activities of the sites surrounding the lagoon. Experts from the Spanish Institute of Oceanography are analysing what is happening.People on vacation in the affected area reports Cadena Ser is volunteering to save the few fish still alive left agonizing on the shore by bringing them to places with clean water.
The message from Madrid comes in the whole controversy over the responsibility for the situation between the national administration and that of Murcia, where the Popular Party, the first opposition force, has ruled for 25 years. The latter argues that the harmful discharges come from activities over which the central government is competent.
In contrast, Madrid argues the opposite, that is, that the current situation of the Menor Sea is the result of regional political management permissive concerning irregular activities. Today, the Deputy Prime Minister and Minister of Ecological Transition, Teresa Ribera, is expected to visit the Menor Sea.
Related Posts