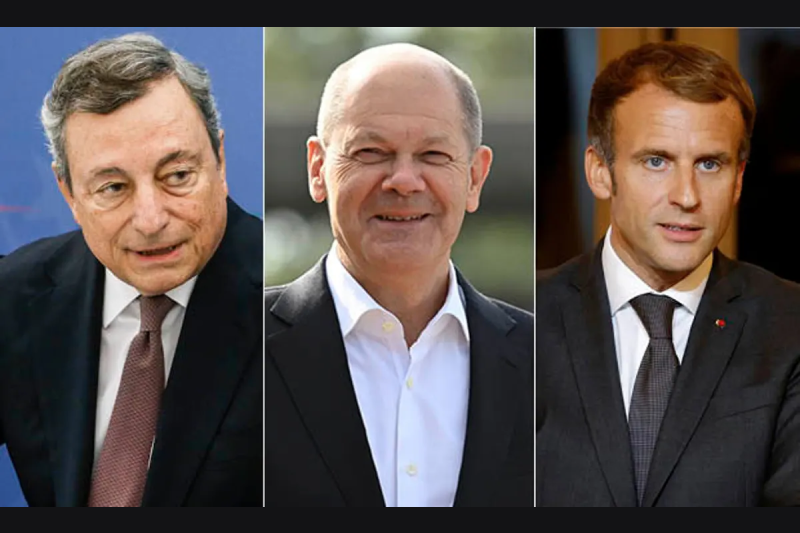 european trio arrive in kyiv to show unwavering support to ukraine
European trio arrive in Kyiv to show unwavering support to Ukraine
The leaders of France, Germany, Italy as well as Romania on Thursday arrived in Kyiv, a move that is symbolic of European support for Ukraine as it stands strong against Russia's invasion. This is the most high profile visit to Kyiv since it was attacked by Moscow.
The office of French president said that President Emmanuel Macron, German Chancellor Olaf Scholz and Italian Premier Mario Draghi had traveled together to Kyiv, while the Romanian President Klaus Iohannis is supposed to join them there.
A message of European Unity
As he got down from the train in Kyiv, Macron said that the leaders would be visiting the attack sites. "It is an important moment," he said. "It is a message of European unity toward Ukrainians."
The German news agency, dpa quoted Scholz that the European leaders are visiting Ukraine in attempt to show their solidarity while also reiterating their commitments to continue their financial and humanitarian aid to Ukraine and also supply of weaponry to the country. Scholz further added that their support will go on "for as long as it is necessary for Ukraine's fight for independence," as reported by dpa.
The leaders are also scheduled to meet Ukrainian President Volodymyr Zelensky.
The European leaders of the three largest economies in European Union arrived on a special overnight train where they held long meetings in the dining car to streamline their positions ahead of arriving in Kyiv. The visit holds special importance as the three countries have often been criticised for not providing Ukraine with the level of weaponries as urged for by Zelensky.
Timing of the visit
The visit by these European leaders comes as the European Union leaders meet on June 23-24 to come to a decision on request by Ukraine to become a candidate for membership of EU. Also, the ever crucial NATO summit is scheduled for June 29-30 in Madrid before the NATO defense ministers meet on Thursday to decide on sending military aid to Ukraine.