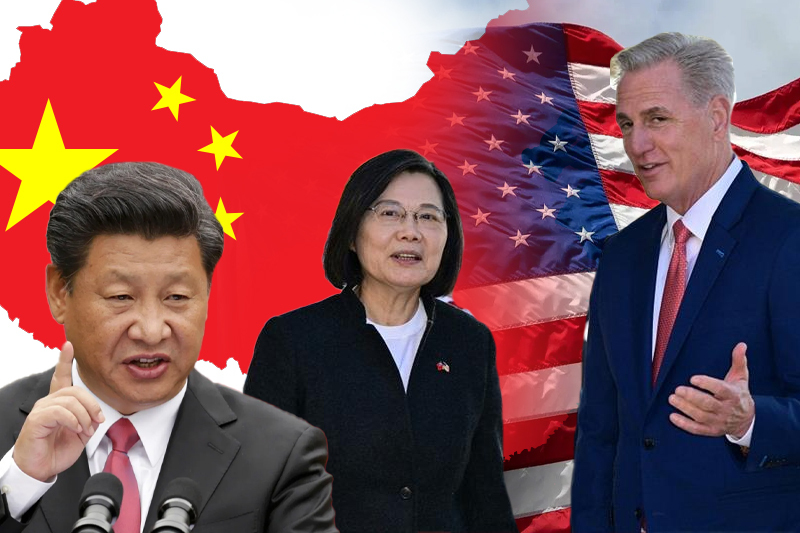 China slams Tsai-McCarthy meeting in the US, deploys aircraft carrier near Taiwan
China slams Tsai-McCarthy meeting in the US, deploys aircraft carrier near Taiwan
The People's Republic of China slammed the meeting between Tsai Ing-wen, a Taiwanese politician and the president of the Republic of China (a self-governing island) and Kevin McCarthy, Speaker of the United States House of Representatives.
China also deployed an aircraft carrier group near Taiwan. China further warned of "consequences" in response to the high-profile meeting between Kevin McCarthy and Tsai Ing-wen.
Recently, Kevin McCarthy and Tsai Ing-wen held talks in Simi Valley, California. McCarthy hosted Tsai on Wednesday at the Ronald Reagan Presidential Library in Simi Valley. During the meeting, Tsai said, "It is no secret that today the peace we have maintained and the democracy which (we) have worked hard to build are facing unprecedented challenges." Earlier, the Taiwanese politician visited Belize and Guatemala.
Keep Reading
On Thursday, China issued separate statements to condemn the meeting. China opposed interaction between Taiwan and other countries. China called the meeting between Kevin McCarthy and Tsai Ing-wen a"seriously erroneous" and "dangerous", and warned of "resolute and effective" countermeasures. The Foreign Ministry of China said the meeting was a "collusion" between "Taiwan independence forces."
China urged the United States to "cease" all forms of official interaction with Taiwan. China's defence ministry said in a separate statement that the People's Liberation Army (PLA) of China would work to safeguard China's sovereignty and territorial integrity, and establish peace across the Taiwan Strait.
Tsai Ing-wen started her trip to Central America on Wednesday. Subsequently, Xu Xueyuan, the Minister at the Embassy of the People's Republic of China in the United States of America, said that any meeting "could lead to another serious confrontation in the China-US relationship." China's Chargé d'Affaires also urged the US not to interact with Taiwanese politicians. However, John Kirby, Coordinator for Strategic Communications at the National Security Council in the White House, asked China not to overreact to Tsai's trip.