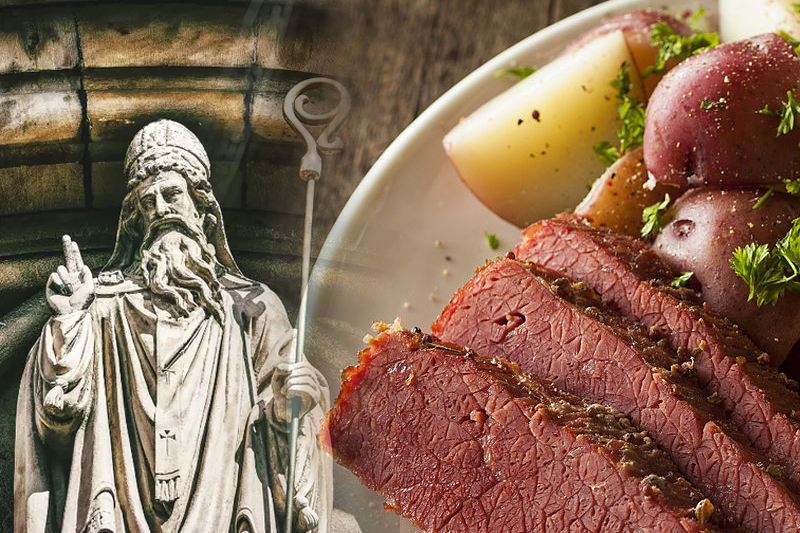 Catholics in dilemma to eat corned beef amid lenten Friday
Catholics in dilemma to eat corned beef amid lenten Friday
St. Patrick's Day this year creates a conundrum for many Catholics.
Since it falls on a Friday during Lent, when Christians refrain from eating meat, no celebrations with the customary corned beef will take place.
The Chicago Archdiocese will not grant you a dispensation either, however there is a little exception.
If Catholics find themselves at a holiday gathering where meat is offered, according to Cardinal Blase Cupich, they can substitute another type of penance or carry out an act that benefits the underprivileged.
The Feast of Saint Patrick, also known as Saint Patrick's Day, is a religious and cultural event celebrated on March 17, which is the traditional date of Saint Patrick's death. Saint Patrick is the main patron saint of Ireland.
Keep Reading
Saint Patrick's Day, which was declared an official Christian feast day in the early 17th century, is observed by the Catholic Church, the Anglican Communion (especially the Church of Ireland), the Eastern Orthodox Church, and the Lutheran Church. By honoring Saint Patrick and the introduction of Christianity to Ireland, the day also honors the history and culture of the Irish as a whole.
The Canadian province of Newfoundland and Labrador, the Republic of Ireland, Northern Ireland, Montserrat, and the British Overseas Territories of Canada all observe Saint Patrick's Day as a public holiday. Especially among the Irish diaspora, it is commonly observed in the United Kingdom, Canada, United States, Argentina, Australia, South Africa, and New Zealand.
More nations than any other national celebration commemorate it. The Irish diaspora has significantly influenced contemporary festivals, particularly those that have their roots in North America. The Saint Patrick's Day celebrations, however, have drawn criticism for becoming unduly commercialized and for reinforcing bad stereotypes about the Irish.