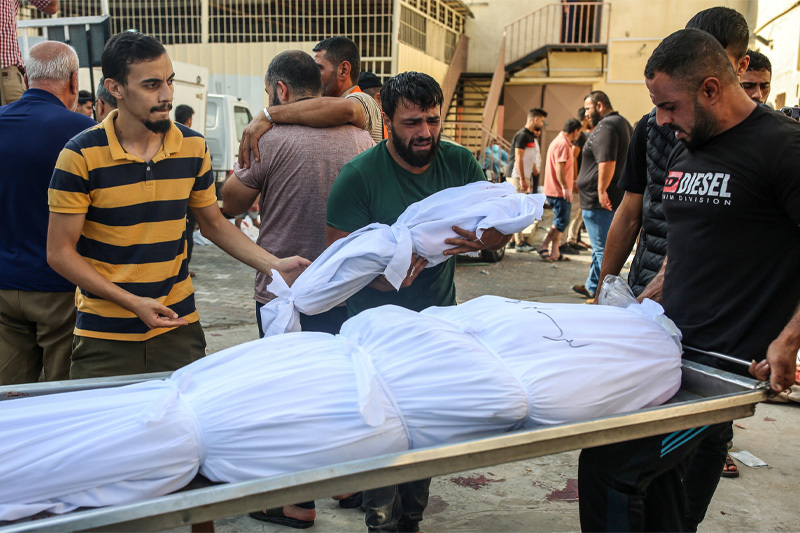 Biden Questions Accuracy Of Casualty Figures In Gaza, Asked To Apologise
Biden Questions Accuracy Of Casualty Figures In Gaza, Asked To Apologise
In this time of war, US President Joe Biden has questioned the reliability of the Health Ministry of Gaza's reporting of the number of people killed and wounded during the Israeli assault on the blockaded Palestinian enclave – because the ministry is run by Hamas.
On Thursday, the health ministry said the Israeli bombing of Gaza had claimed 7,028 lives in the nearly three weeks since the Palestinian Islamist militant group killed about 1,400 Israelis and took more than 200 hostages in a surprise cross-border attack.
Biden's "Shocking And Dehumanising" Remarks
"I'm sure innocents have been killed, and it's the price of waging a war," Biden noted. "but I have no confidence in the number that the Palestinians are using." The Council on American-Islamic Relations has called on the president to apologise for his "shocking and dehumanising" remarks.
In a statement, CAIR Executive Director Nihad Awad said Biden should apologise for his comments on the casualty figures, condemn Israel for deliberately targeting civilians and demand a ceasefire before bombardments claim more innocent lives.
Keep Reading
"The Israeli government has openly admitted that it is targeting civilians and civilian infrastructure. Journalists have confirmed the high number of casualties and countless videos coming out of Gaza every day show mangled bodies of Palestinian women and children."
CAIR is the country's largest Muslim civil rights and advocacy organisation. Meanwhile the Gaza ministry, in a move to head off allegations of fabrication, has released a 212-page list of the names and identity numbers of every Palestinian it says has been killed in the assault.
Historical Reliability Of Casualty Figures
Questioning of the accuracy of the numbers follows the dispute over who was responsible for a blast at a Gaza hospital. While the ministry said an Israeli airstrike killed at least 500 people, later accounts suggested a misfired Islamic Jihad rocket aimed at Israel was responsible.
Nonetheless, casualty figures from the Health Ministry of Gaza have historically tended to be reliable, in part because the names of the victims are carefully documented and the fatalities tend to be prominent in the territory's tightly knit communities.