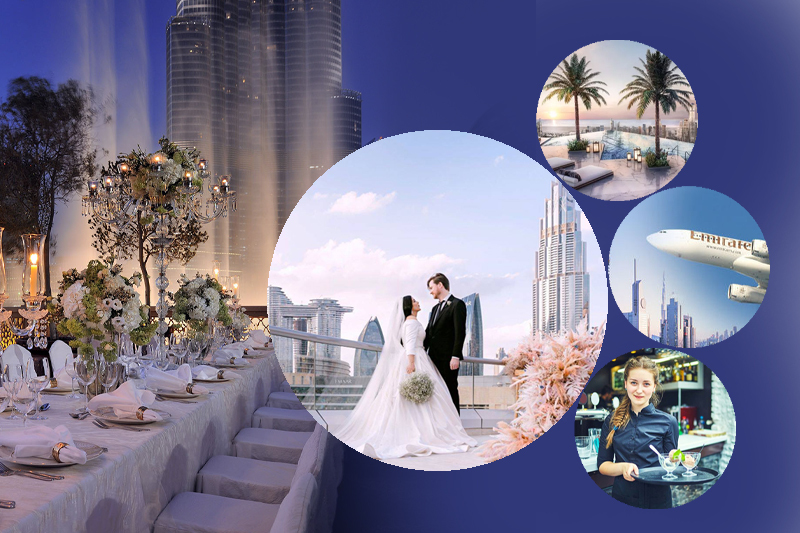 7 reasons why Dubai is one of world's best wedding destinations
7 reasons why Dubai is one of world's best wedding destinations
Last updated on January 31st, 2023 at 10:42 am
Lately, Dubai in the United Arab Emirates has emerged as one of the top destinations to tie the knot, with a growing number of event planners across the world recommending the city to couples as the perfect venue for the once-in-a-lifetime event.
In fact, with the city's world-class infrastructure, luxury hospitality offerings, diverse tourism attractions, and exceptional track record for safety, scores of people – even some living halfway across the world – are flocking to Dubai to celebrate milestone celebrations and personal occasions, in addition to weddings.
Keep Reading
Here are seven reasons why Dubai is one of the top locations in the world to host a dream destination wedding.
A number of couples in the colder regions prefer not to get married in winter as they seek some sunshine for their special day. Well, in Dubai, this is a guarantee, as the region's desert climate ensures sultry weather all year round.
Jaw-dropping surroundings
With magnificent cityscapes, a beautiful desert, and an unparalleled coastline, Dubai – one of UNESCO's Creative Cities of Design – offers an unforgettable setting for your destination wedding.
Whether you are planning an intimate gathering or an elaborate celebration, in a trendy indoor or romantic outdoor setting, the city's wide range of budget-friendly and luxurious hotels will satisfy your requirements. Some stunning venues even offer breathtaking views of the Burj Khalifa.
Dubai offers a complete 360° wedding service, including chartered flights, top venues, award-winning wedding planners, exceptional hospitality, and international photographers.
The city is often called a melting pot of international culinary delights. Whether you are into local Emirati cuisine or brilliant bistros and Michelin-worthy restaurants, the restaurant scene in Dubai never fails to impress.
Did you know almost two-thirds of the world is within 8 hours' reach of Dubai? The city is conveniently located between Asia, Europe, and Africa. Therefore, no matter where your guests are from, Dubai is highly open and accessible with simplified entry requirements and visa procedures.
Are you ready to stretch out your celebrations? Dubai is not just an incredible wedding destination but a fantastic location for your honeymoon as well. From tranquil spas and yacht cruises to skydiving and desert safaris, the city offers a host of once-in-a-lifetime experiences.