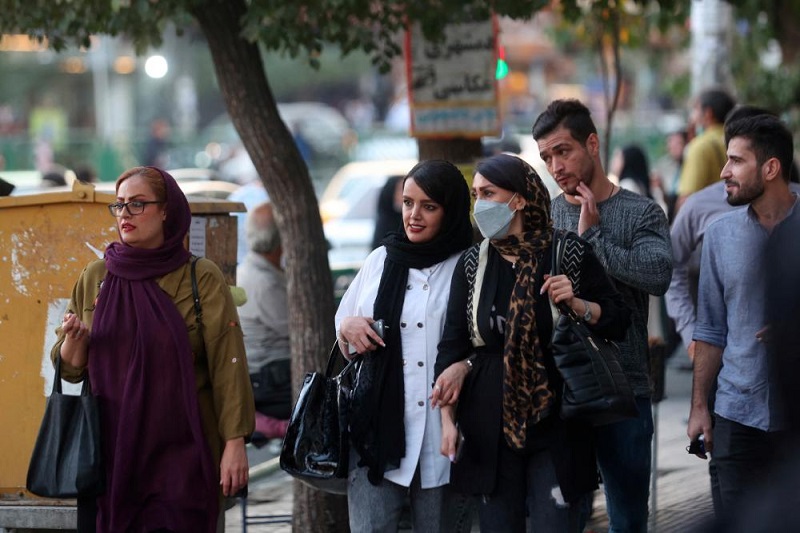 women in iran who refuse to wear hijab face psychiatric treatment
Women in Iran Who Refuse to Wear Hijab Face Psychiatric Treatment
Iranian authorities are sending women into psychological counseling to enforce laws requiring them to cover their hair. Healthcare organizations express concern that the country's judiciary is appropriating psychiatric medicine for its ends, while others point to the action as evidence that the government is unable to uphold the hijab laws.
Iranian actress Afsaneh Bayegan frequently posts images of her uncovered hair on Instagram and recently showed up to a public ceremony without a hijab as a symbol of her defiance.  
The action angered the Iranian government, which has been seeking new ways to compel women to cover their hair.
Since Mahsa Amini passed away in September 2022 after being detained by Iran's morality police for "improperly" donning her headscarf, many Iranian women have decided to start exposing their hair. Celebrities, athletes, and actors from Iran have joined in the show of support.  
Azadeh Kian, an expert on Iran and professor of political science at Université Paris Cité, says that the sentence that [Bayegan] was given serves as an example. After the Islamic Revolution in 1979, Bayegan became one of Iran's first movie stars. He is also a well-known personality on Iranian television.
The situation involving Bayegan is not unique. Azadeh Samadi, an Iranian actress, was recently "diagnosed" by Iranian judges with an "antisocial personality disorder" because she showed up to a funeral without a hijab. Samadi will also be required to visit a "psychological center" once a week for therapy.  
Iranian psychiatrists have criticized the justice system
A Tehran court sentenced a woman to two months in jail and six months of mental health counseling at the beginning of July for "a contagious psychological disorder that leads to sexual promiscuity" because she wasn't covering her hair.
The Iranian psychiatric community is concerned about the rise in sentences requiring women to receive psychological care. The presidents of four mental health organizations accused government officials of "exploiting psychiatry" for other purposes in an open letter they sent on July 23 to Gholam-Hossein Mohseni Ejei, the head of the nation's judiciary.
They complained, "Physicians should diagnose mental health disorders, not judges."
Given that even young children are not exempt, their worries are all the more valid. Education Minister Youssef Nouri acknowledged that schoolchildren were being detained in the streets or at their places of instruction and held in "medical psychological centers" where they were "re-educated" to stop "anti-social" behavior at the height of the anti-government protests that erupted in Iran after Mahsa Amini's death.
Authorities acknowledge their mistakes
This abuse of psychiatric interventions, according to Kian, "first and foremost, demonstrates the chaos of the authorities." In recent months, more and more women have stopped wearing headscarves despite government efforts to put more pressure on anti-hijab protesters.
Authorities have been issuing hefty fines, texting women who are seen driving without a hijab, seizing vehicles, and even pressuring employers to fire women. This pressure extends to employers in the private sector as well. Even hospital care has been denied to exposed women, and businesses that cater to them have been forced to close.  
Keep Reading
After a picture of employees at the headquarters of the retail behemoth's employees without headscarves was shared on social media in July, the authorities temporarily closed the offices of Digikala, the Iranian version of Amazon.
After being discovered driving without a hijab a few days earlier, a court in Tehran province sentenced a woman to spend one-month cleaning corpses in a mortuary.
According to Kian, the authorities have tried everything to get women to comply with the hijab law, but it hasn't been successful. As a result of their weakening, they are being forced to take actions like receiving psychological treatment.
The trend, according to Farhad Khosrokhavar, director of studies at the School of Advanced Studies in the Social Sciences in Paris, is yet another illustration of the divide between Iranian society, particularly its youth, and the government.
Power comes with certain preconceptions and arbitrary notions at the top echelons of the authorities, who are mostly men in their eighties, he claims. They are attempting to impose standards that are completely meaningless and have lost all credibility in the eyes of Iranian youth. They are losing legitimacy and furthering their denigration in Iranian society.
Committing repeated offenses against women as crimes
However, efforts to put a stop to anti-hijab demonstrations are unlikely to slow down any time soon. Kian notes that various elements of the Iranian state appear to be engaging in a game of "one-upmanship" to quell any act of defiance.
Even harsher punishments for women who choose not to wear a headscarf were proposed in a bill that was submitted to the Iranian parliament at the end of July.
Women may lose their civil rights and their ability to work if this law is passed. According to Kian, they would be deprived of everything. But most significantly, the bill creates a new crime called "promoting being unveiled," which has raised concerns among legal experts.
For repeated offenses, it would imply that women who are not wearing the hijab could be charged with "disseminating ideas against the hijab," and in that case, they might even receive the death penalty, warns Kian.