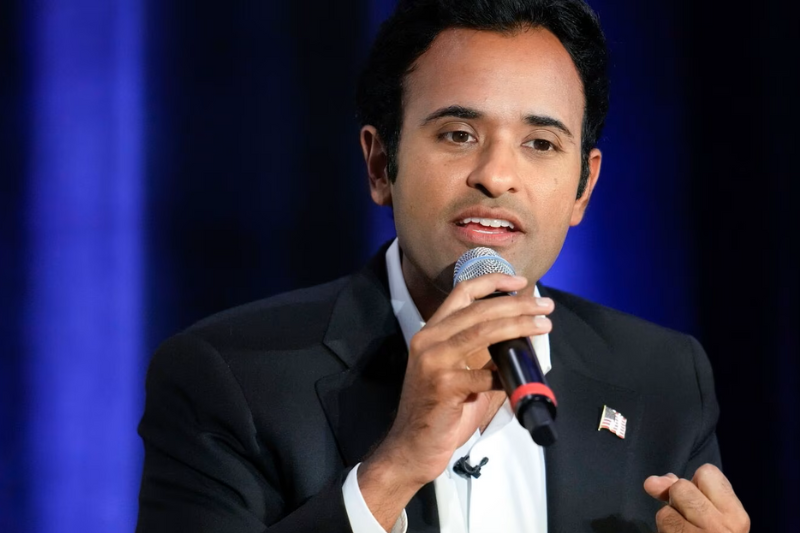 vivek ramaswamy draws flak over 'climate change hoax' remark
Vivek Ramaswamy draws flak over 'climate change hoax' remark
Indian-American millionaire and the youngest Republican candidate in the next year's US Presidential poll race, Vivek Ramaswamy has drawn criticism after treating the climate emergency as a "hoax" at the maiden GOP debate last week.
He made the remark when candidates aiming for the coveted GOP presidential nomination were arguing over global warming and other climate change-related concerns on August 24. His comments were booed by the crowd and also criticised by fellow GOP member Chris Christie.
Calling himself a candidate who "isn't bought and paid for", Ramaswamy said: "Climate change is a hoax. More people are dying of bad climate change policies than they are of actual climate change," according to BBC. Former NJ Governor Christie went on to compare him with ChatGPT.
Anti-carbon Agenda A "Wet Blanket On The Country's Economy"
Following his controversial remarks, US President Joe Biden called the Indian-American's words during the debate "dangerous and irresponsible", with former Vice-President Mike Pence also taking a sharp jibe at Ramaswamy and claiming he is "far from reality".
The GOP candidate also made comments on carbon emissions, calling the government's anti-carbon agenda a "wet blanket on the country's economy". He calls himself pro-environment. The toughly-contested race has another Indian-American, as well.
Former South Carolina Governor Nikki Haley raised a staggering $1 million in less than 72 hours following the maiden GOP debate in Wisconsin, her campaign announced Monday, noting "Haley's post-debate momentum is real and growing."
Keep Reading
Unflinching Support For Trump Despite Legal Setbacks
Haley recently addressed a massive rally of her supporters, with the campaign highlighting the politician had to greet people in "three overflow rooms". She spoke on the partnership between Russia and China and stressed the US needed to change the way it deals with Beijing.
Haley's popularity has gone up following last week's inaugural debate, which GOP frontrunner and former President Donald Trump decided to skip. Despite ongoing legal setbacks, opinion polls continue to place the businessman-turned-politician well above his rivals.
Taking to his Truth Social platform before the highly-anticipated showdown, Trump revealed the reason behind skipping the event, writing: "The public knows who I am & what a successful Presidency I had." He has been accused of inflating his net worth by as much as $2.2 billion.