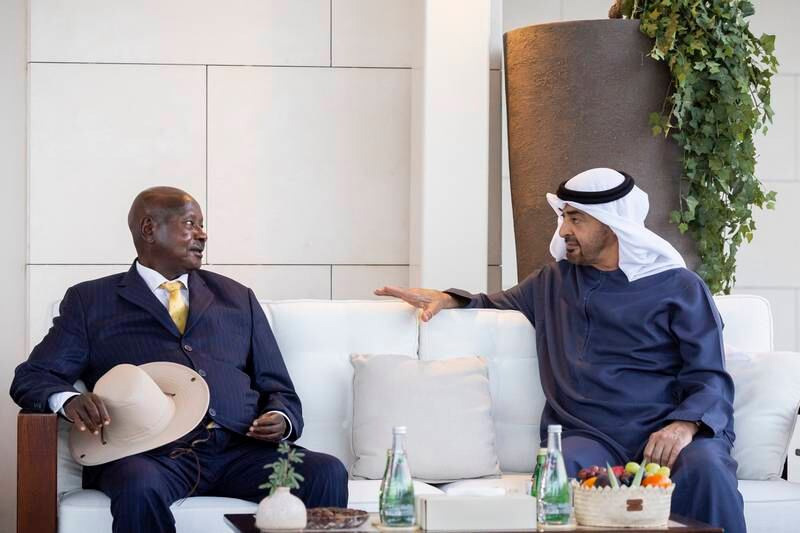 Ugandan President In UAE: Two Nations Explore Economic And Investment Cooperation
Ugandan President In UAE: Two Nations Explore Economic And Investment Cooperation
Ugandan President Yoweri Museveni arrived in Abu Dhabi on Sunday at the invitation of his Emirati counterpart, Sheikh Mohamed bin Zayed, for a working visit lasting days.
During a meeting at Qasr Al Shati, the two leaders explored ways to strengthen bilateral relations, discussing collaboration in economic, renewable energy and other fields.
The two sides explored areas that serve their aspirations for sustainable progress and prosperity, while addressing regional and international issues of mutual interest.
Yoweri Museveni's Trip Ahead Of COP28 Summit In Dubai
The discussions covered the UN Climate Change Conference (COP28), which the Emirates is set to host later this month as part of efforts to foster effective transformation in climate action.
Museveni conveyed Uganda's desire to expand economic and investment cooperation with the Middle Eastern nation to fulfil their shared interests and aspirations.
While meeting a delegation of Emirati investors, Museveni implored them to interest themselves in the area of local production of pharmaceutical products in Uganda.
Investors Asked To Unlock Uganda's Pharma Potential
"We have important things here in Uganda that we are not using. For example, we produce a lot of sugar but only use it for tea to drink, we also have a lot of starch from cassava and maize …"
The Ugandan President appealed to the investors to locally partner with the government in reducing the immense amount of starch by putting it into good use of producing medicines.
Refining raw sugar into pharmaceutical-grade sugar is a massive potential area for investors to explore in the African nation, Museveni highlighted.
Uganda Prez Stresses Need To Link Industry And Minerals
Museveni also noted the abundance of minerals in Uganda, encouraging the investors to consider the nation's lucrative industrial venture.
"There is iron ore for steel, phosphate for fertilisers, we have copper for electric military industries, gold, and lithium for electric batteries. We are already making electric cars."
"Iron ore is like 800 million tons, while the confirmed phosphates are 230 million tons," he added, stressing the need to link the industry and the minerals.
Keep Reading
Museveni Promises Of A Conducive Business Atmosphere
President Museveni hailed the investors for exporting Ugandan products on a global market, thanking them for "reaching the bigger markets of the world with our good natural products."
He welcomed the investors to Uganda and sought to assure them of a ready market for their products and services with a conducive business atmosphere.
He also held discussions with COP28 President Sultan Al Jaber, also the Minister of Industry and Advanced Technology of the UAE, and the Managing Director and Group CEO of Adnoc.