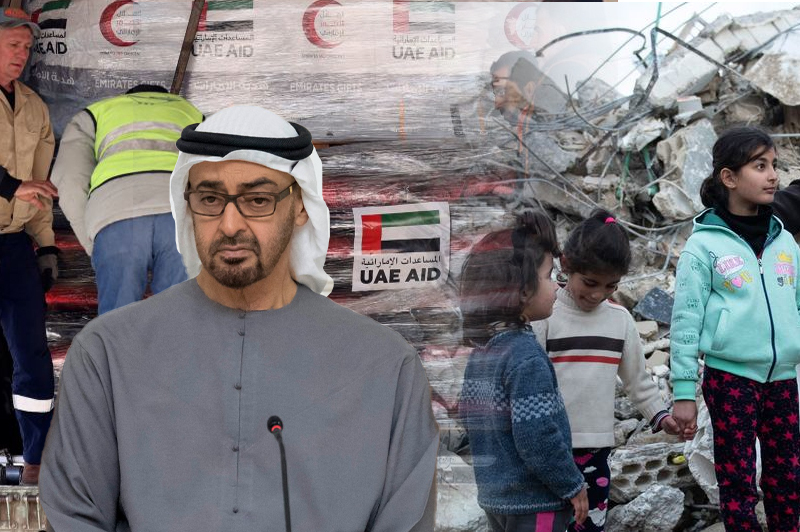 The UAE President orders an additional $50 million in quake aid to Syria
The UAE President orders an additional $50 million in quake aid to Syria
The President of the United Arab Emirates (UAE), His Highness Sheikh Mohamed bin Zayed Al Nahyan, has ordered the provision of an additional US$50 million in quake aid to Syria in order to help earthquake victims, with US$20 million of the amount to be used to implement humanitarian projects in response to the emergency appeal of the United Nations for Syria.
Under the directives of the UAE President, additional aid will be sent to Syria in order to help people affected by last week's destructive earthquake. The humanitarian projects will be implemented in coordination with the United Nations Office for Humanitarian Affairs (UN OCHA).
Earlier, Sheikh Mohamed bin Zayed Al Nahyan ordered US$50 million in relief aid for those affected by earthquakes in Syria and an additional US$50 million in aid for earthquake victims in Turkey.
According to the state news agency WAM, a total of 70 UAE flights, carrying relief aid, have been sent to Syria and Turkey to provide assistance to earthquake survivors.
A total of 38 flights were sent to Syria, carrying 1,243 metric tons of food and medical aid, and 2,893 tents, to shelter around 20,000 earthquake survivors. A UAE search and rescue (SAR) team, comprising 42 rescuers, was sent to Syria to evacuate people.
A total of 32 flights were sent to Turkey, carrying medical equipment and supplies, and 927 shelter materials, to help 5,000 people in the country.
Keep Reading
The UAE also opened a field hospital in the İslahiye district of Gaziantep in Turkey to help people. It has an inpatient ward, comprising 50 fully-equipped beds, operating rooms and a medical team of healthcare professionals, including 75 doctors, nurses and medical assistants. Reportedly, another 200-bed hospital was recently launched in the Hatay province of Turkey to provide medical assistance to earthquake survivors. The UAE also sent a search and rescue team, comprising 92 rescuers, to Kahramanmaras in Turkey to carry out SAR operations.
When the earthquake hit Turkey and Syria, the UAE launched the"Gallant Knight / 2" operation to help earthquake victims in the two countries. The UAE also launched an air bridge in coordination with the International Humanitarian City (IHC) to transport relief aid to Turkey and Syria. The UAE also announced a public donation campaign for earthquake survivors.
The UAE President also offered his condolences to Bashar al-Assad, the President of Syria and Recep Tayyip Erdoğan, the President of Turkey.
The UAE has been a pioneer in sending humanitarian assistance to Turkey and Syria, which reiterates UAE's deep principles and belief in humanity.
Read More:- Major Updates: Blinken to pledge earthquake support on first Turkey visit