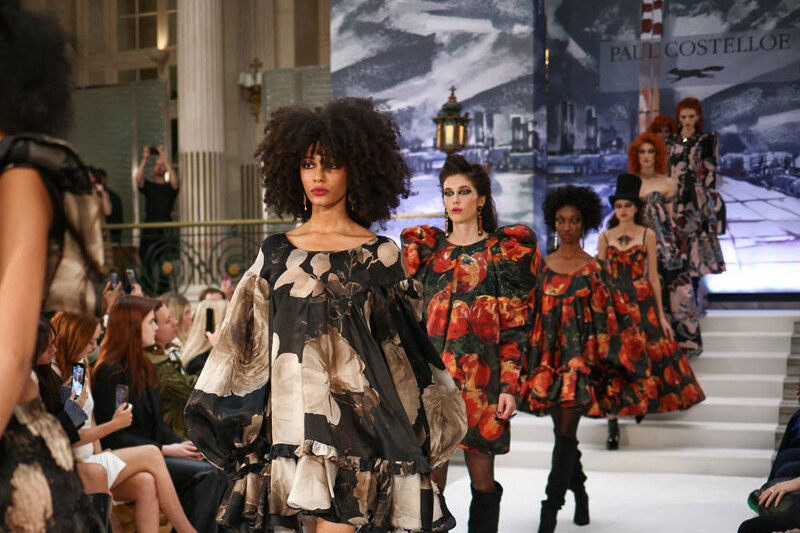 london fashion week begins with a tribute to vivienne westwood
London Fashion Week begins with a tribute to Vivienne Westwood
Organizers of LONDON Fashion Week dedicated the five-day event to the late designer Vivienne Westwood, who passed away in December.
Ms. Westwood, who died at the age of 81, was one of the biggest names in British fashion. She became identified with 1970s punk rock after dressed the Sex Pistols and was noted for her provocative designs.
She used her runways to advocate for causes she felt strongly about, like climate change, pollution, and WikiLeaks founder Julian Assange.
British Fashion Council (BFC) chair David Pemsel told the Evening Standard newspaper in London, "She embodies our fantastic industry."
"It is only proper and fitting that we devote the entire week to her. We must honor her for her exceptional and singular contribution." On Thursday, celebrities and fashionistas attended a memorial service for Ms. Westwood in London's Southwark Cathedral.
"She set such a high bar and was so enjoyable to collaborate with," designer Paul Costelloe told Reuters at his Friday morning display. London is vacant since she has left.
Keep Reading
Mr. Costelloe drew inspiration from James Joyce's Ulysses for his collection of knitwear in browns, greys, and greens, as well as dresses with flower motifs in gold and pink.
The 77-year-old designer stated that the collection reflects "the west coast of Ireland — very romantic, very soft, and extremely colorful."
London-based Bora Aksu, a Turkish fashion designer, opted for a predominantly black-and-white collection that was inspired by the Norwegian painter Edvard Munch and the fictitious character Wednesday Addams and championed outcasts.
"They didn't even try to blend into society or modify themselves," Mr. Aksu told Reuters, adding that the color black took on a new significance.
"With the recent… earthquake (in Turkey and Syria), black felt appropriate in a feeling of silent mourning. Even if it wasn't my original objective, it was simpler to adapt it into a subdued color scheme."
Mr. Aksu observed a minute of silence for the victims of the quake on February 6 that killed over 43,000 people.
His models wore sheer gowns in black and white with bows, lace, frills, and polka dots. There were crochet shawls and hats, as well as trouser suits with trailing edges. There were pastel blue and pink outfits with black edging.
This season's highlights include designer Daniel Lee's debut at Burberry, as well as the presentation of three Ukrainian designers as part of a BFC project with Ukraine Fashion Week.
Natasha Bird, Executive Editor (Digital) of ELLE UK, told Reuters, "Fashion needs to regularly evaluate what it gives back."
"Showcasing talent that could aid in the improvement of a country post-crisis or during a crisis is a fantastic approach to ensure that fashion has some significance and value beyond the business of creating clothes."
Read More:- Hong Kong's Art Central will be back there in March