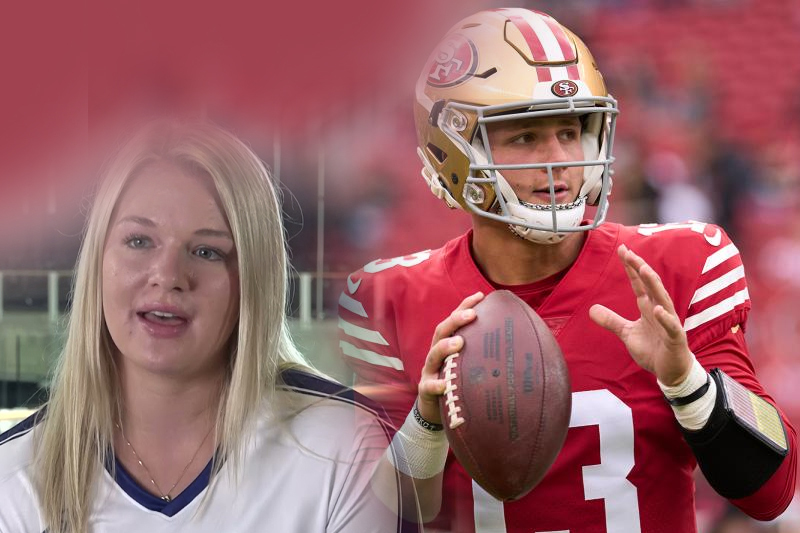 Is Brock Purdy married? The 49ers star hug family after win
Is Brock Purdy married? The 49ers star hug family after win
Brock Purdy has had an eventful 24 hours after being the San Francisco 49ers' game-changing last-round NFL draft pick and defeating Tom Brady's Tampa Bay Buccaneers.
Purdy earned the unenviable title of "Mr. Irrelevant" after being selected last in the most recent NFL draft, making him the 49ers' third-choice quarterback.
Due to injuries, the rookie has gained attention, and on Sunday, he had a memorable debut by guiding the 49ers to a decisive 35-7 victory over the Buccaneers.
Purdy filled in for Trey Lance and Jimmy Garoppolo, who are both out for the season due to injuries, completing 14 of 18 passes for 185 yards, two touchdowns, and no interceptions.
Keep Reading
Is Brock Purdy Married?
After the 22-year-old had the match of his life, focus shifted to Jenna Brandt, with whom he seemed to have been dating for a while.
Although the pair hasn't yet exchanged vows, it is clear that they are genuinely in love as Brandt frequently posts loving images of them together.
Brandt has uploaded a lot of images of herself competing as a setter for the volleyball team at the University of Northern Iowa.
She posted a photo of herself wearing the UNI colors at the start of the year and wrote, "A dream come true to wear this jersey. I am really grateful to UNI for this experience that has changed my life.
She shared a series of photos with Purdy last month that were taken on the family farm and show her posing with her arms around him.
One photo of them in a field with a tractor in the background was captioned, "My roots and my boy."
Then Purdy said, "My girl!" underneath.
Many people expressed their admiration for Brandt, a kinesiology major from Sumner, Iowa, and one said: "No way you're dating THE BROCK PURDY."
The 49ers' most recent game saw the 262nd and final pick in the 2022 NFL Draft lead the team to a 33-17 victory over the Dolphins after taking over for injured quarterback Jimmy Garoppolo. This was the quarterback's first start as a pro.