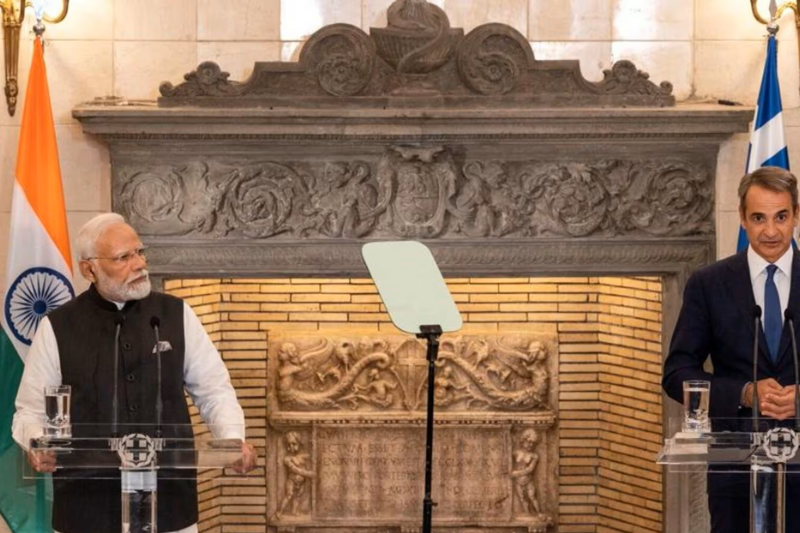 india greece relations elevated to 'strategic partnership'
India-Greece relations elevated to 'Strategic Partnership'
Narendra Modi landed in Athens on Friday, becoming the first Indian prime minister to visit Greece in four decades. He held discussions with his Greek counterpart Kyriakos Mitsotakis on a number of domains, including defence, shipping, education, agriculture and tourism.
The leaders decided to elevate relations between the two countries to the level of a 'Strategic Partnership'. They expressed their intention to expand progression across different domains and commitment to doubling bilateral trade by the end of the decade.
Modi Conferred With The Grand Cross Of The Order Of Honour
The leaders also highlighted the need for an early finalisation of a Mobility and Migration Partnership Agreement (MMPA). The deal could help facilitate free movement of workforce between India and Greece. Modi's Greece trip followed a visit to South Africa for BRICS summit.
On Friday, he was conferred with the Grand Cross of the Order of Honour by Greek President Katerina Sakellaropoulou. The prime minister offered condolences for recent wildfires in the country and expressed commitment to resolving the Ukraine conflict through diplomacy.
Keep Reading
Business Lunch With Prominent Indian And Greek CEOs
Mitsotakis congratulated his Indian counterpart on the successful Chandrayaan-3 mission, which recently made India the fourth country to make a soft landing on the moon as well as the first one to land near the celestial body's south pole.
The Greek prime minister described his country as a "gateway to Europe" for India. Modi's trip also included a business lunch, with prominent Indian and Greek chief executive officers in attendance. He encouraged business leaders to explore investment opportunities in India.