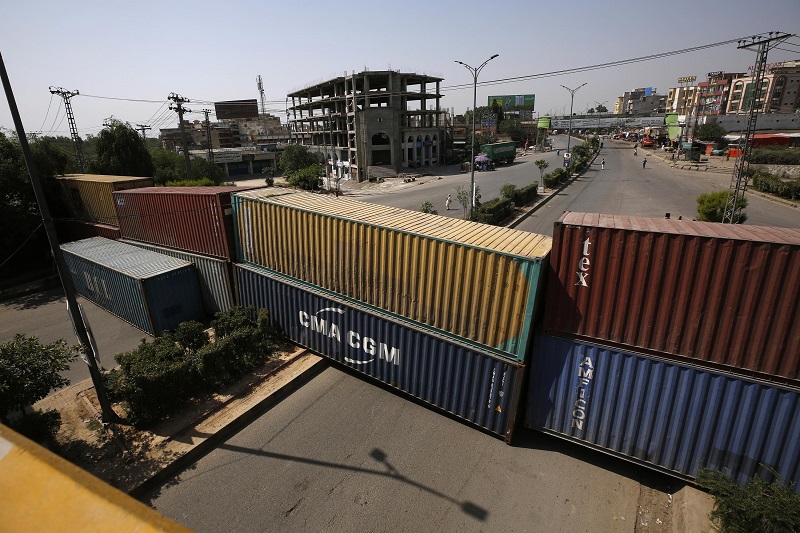 former pakistan pm creates unrest through city blockades and mass rallies
Former Pakistan PM Creates Unrest Through City Blockades And Mass Rallies
Former PM Imran Khan of Pakistan is not letting his hurt go unnoticed. He has been jamming the city of Islamabad with one rally after another, creating pressure on the newly instated coalition government.
Recent news coming in from Pakistan confirms that the city of Islamabad can see many routes blocked by trailer containers parked in the middle of the roads, making it difficult for pedestrians and general traffic to traverse.
Also Read: 7 US Military Bases Countries Around The World
As an indication of his larger rally to be held tomorrow, the international cricket star-turned-politician plans to keep rocking the coalition boat. He has announced his plans to lead tens of thousands of people from his power base in the northwestern city of Peshawar to the capital demanding fresh elections — in a centerpiece showdown with his rivals.
His party Pakistan Tehreek-e-Insaf (PTI) continues to have a strong number base. It has already accused the police of arresting and misbehaving with his supporters and detaining them unlawfully. Meanwhile, police were forced to step in and mediate the chokes in the key cities of Pakistan.
Entry and exit points on key highways that lead to the capital were blocked by police around the nearest main cities of Peshawar, Lahore, and Multan. Islamabad police also had to publish a traffic plan showing a complete blockade of the city and a heavy security presence.
Also Read: Bilawal Bhutto Zardari: All you need to know about youngest foreign minister of Pakistan
Addressing the growing notoriety of Mr. Khan, the coalition government's new PM Shehbaz Sharif has already pledged to stop Khan's supporters from pouring into the city, calling the rally an attempt to "divide the nation and promote chaos."
"Nobody should be allowed to besiege the capital and dictate his terms," interior minister Rana Sanaullah also added to a formal media statement over the political unrest.