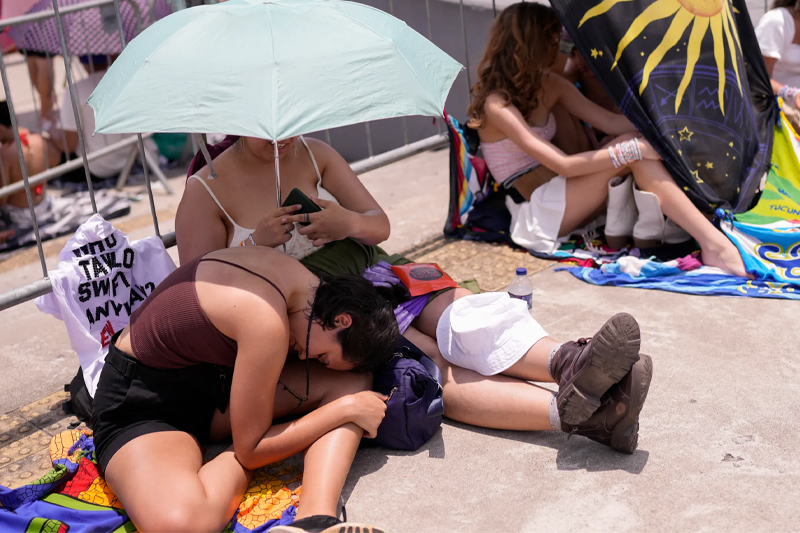 Eras Tour In Brazil: Swifties Face Deaths, Muggings, Heatwave And Postponement
Eras Tour In Brazil: Swifties Face Deaths, Muggings, Heatwave And Postponement
The three-day Rio de Janeiro leg of Taylor Swift's Eras Tour, which concluded Monday night, left scores of Brazilian fans angry and disappointed. People reported fainting from extreme heat, being mugged or getting caught up in a police raid.
Before the first concert on Friday, fans lined up for hours outside the Nilton Santos Olympic Stadium where temperatures soared to 41 degrees Celsius. Inside the venue, Swifties complained of unbearable heat and some said they had difficulty accessing water.
Taylor Swift Postpones Eras Tour Show
Concertgoers complained of not being allowed to take water into the stadium despite the cruel weather. As temperatures continued to rise Saturday, federal authorities announced free water would now be made available at concerts and other large events.
Fury and chaos worsened Friday as Ana Clara Benevides Machado, 23, fell ill during the show and died later that evening at a hospital. Rio's Municipal Health Department said she experienced cardiorespiratory arrest, but the exact cause of her death remains unknown.
Fans and politicians reacted to her death with outrage. In a statement posted on Instagram, Taylor Swift said Benevides' death left her with a "shattered heart". The global pop star postponed her show on Saturday, noting the extreme temperatures in Rio.
Keep Reading
Second Death Of A Swift Fan In Four Days
A dangerous heatwave is sweeping across Brazil, forcing Rio de Janeiro's vendors off the streets due to health alerts and driving up energy demand amid reports of power outages. Last week, the heat index, a combination of temperature and humidity, hit 58.5 degrees Celsius in Rio.
This week, circumstances deteriorated further at 3 a.m. on Monday, when Gabriel Mongenot Santana Milhomem Santos, 25, was stabbed to death on a Copacabana beach, Rio's police said in a statement. The fan had travelled from the country's centre-west region for the concert.