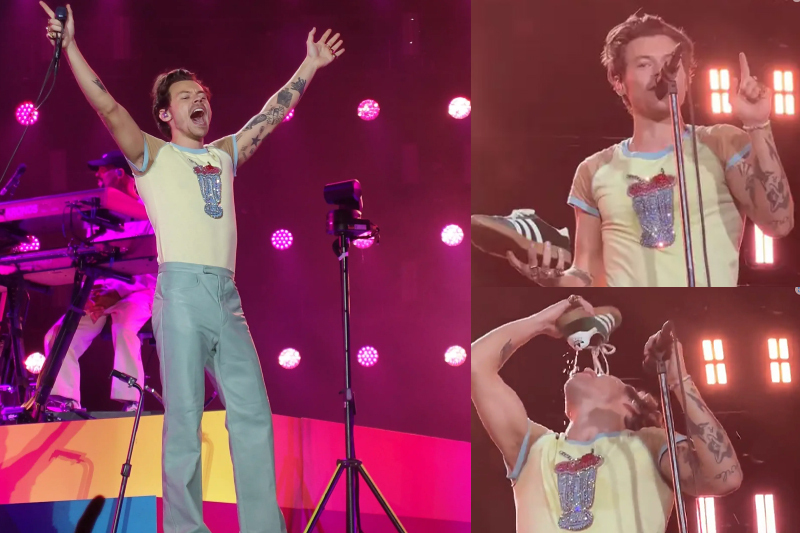 Did Harry Styles just drink out of a used shoe in Australia?
Did Harry Styles just drink out of a used shoe in Australia?
Grammy-winning British pop star Harry Styles indulged in the Aussie tradition of 'shoey' and gulped water from his used $1,170 Adidas x Gucci shoe, charming his 30,000 screaming Australian fans on Monday night at Perth.
"This is one of the most disgusting traditions I've ever witnessed," he told the crowd before raising a sneaker full of water to his lips to drink. Post-swallow, the 29-year-old addressed the cheering crowd, saying he felt "like a different person".
"I feel ashamed of myself," he told the Perth stadium, adding "I will be discussing this with my therapist at length."
Styles started the Australian leg of his 'Love on Tour' world tour in Perth on Monday. He is the latest international star to indulge in the Australian trend even Australians have mixed feelings about. While many residents say it is gross, others have the opinion that the trend is just a harmless bit of fun rooted in Australian culture.
Keep Reading
F1 driver Sir Lewis Hamilton and a number of musicians, including rapper Post Malone who drank from a fan's shoe last month, have partaken while visiting the country.
While a 'shoey' is usually attempted as a celebration of a victory, its origins are still unclear. The crowd often urges international stars to indulge in the questionable trend by chanting "shoey-shoey" during concerts.
Although the risks are pretty low, researchers have explained that a shoey can make the person attempting it susceptible to an array of harmful bacteria, including those that cause staph infections.
But "I think Harry's going to be okay," said Dr Giuffre, a communications lecturer at the University of Technology Sydney, adding the singer's shoes are "probably cleaner than coffee mugs that you and I have on our kitchen counters."
Read More:- Crucial launch of UPR shadow report for UAE underscores nation's commendable progress