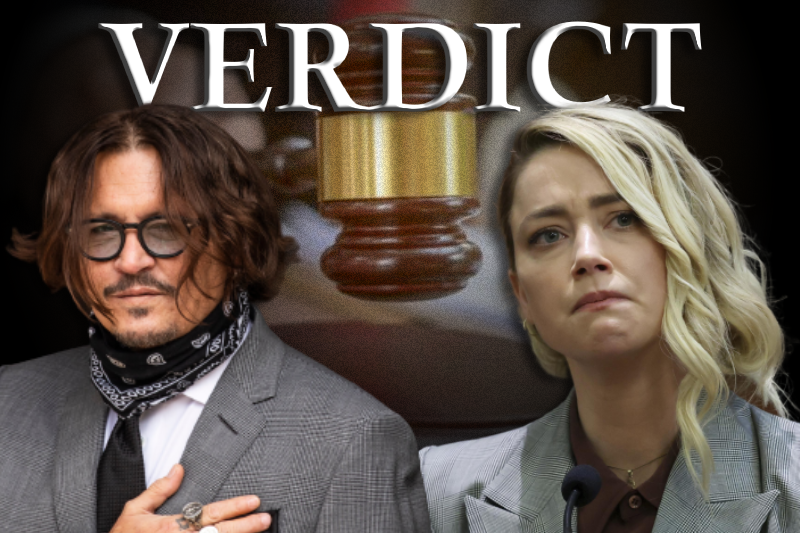 depp heard trial jury gives verdict in favor of depp in all counts except one in defamation case
Depp-Heard trial: Jury gives verdict in favor of Depp in all counts except one in defamation case
On Wednesday, the Fairfax court in Virginia saw the verdict of famous defamation suit filed by Hollywood actor Johnny Depp against his ex-wife Amber Heard. Over six weeks the jury had listened to in-detail abuse incurred by both sides and gave the verdict in favor of Depp in all counts except one that went in favor of Amber Heard.
The Trial
Hollywood actor, most known for his role of Jack Sparrow in movie Pirates of Caribbean, had filed a defamatory suit for $50 million against his ex-wife and actress Amber Heard for defaming him in a 2018 op-ed published in The Washington Post wherein she had portrayed herself as a model of domestic abuse and violence.
The trial went on for six weeks at Virginia's Fairfax county court with eye witnesses ranging from Depp's former partner Kate Moss, who denied ever being abused or harassed by Mr. Depp, to Jason Momoa, Ms. Heard's co-actor in Aquaman.
The trail was one of the most high-profile star-lit trials in American history. Polls suggest that Americans were more drawn in to watch the proceedings of the trial than in the Ukraine war or the historic ruling on abortion laws in the US.
The Verdict
The jury took two more days of deliberations after closing statements of the trial last week to give the verdict on Wednesday. Jurors ruled that "Ms. Heard's statements about her marriage were false and she had acted with actual malice".
They also found that Mr. Depp had defamed Amber Heard after his lawyer called her allegations of abuse a "hoax" in a statement to Daily Mail.
Also Read: Top 10 Richest Pakistani Cricketers
What compensation was awarded?
Jurors awarded $10.35 million to Mr. Depp in punitive and compensatory damages, who denied all allegations of abusing Ms. Heard in their short-lived turbulent marriage. While the jury gave verdict that Depp must receive $10 million in compensatory damages and $5 million in punitive damages, the judge underlined that state law caps punitive damages at $350,000. This means that Depp's compensatory and punitive damages would total $10.35 million.
Ms. Heard won one of the three counter claims against her ex-husband and was awarded $2 million as compensatory damages.
Verdict "a setback"
While a mixed verdict, Depp was awarded more compensation. Hours after the trial, which Ms. Heard listened to in shock in court, she released a statement expressing her "disappointment" and how it is a "setback" in years of fight of women against domestic abuse. "The disappointment I feel today is beyond words," Heard wrote in her statement. "I'm heartbroken that the mountain of evidence still was not enough to stand up to the disproportionate power, influence and sway of my ex husband."
She added, "It sets back the clock to a time when a woman who spoke up and spoke up could be publicly shamed and humiliated.
"It sets back the idea that violence against women should be taken seriously."
"Gave me my life back"
Due to prior commitments, Depp could not be present in court for the verdict. He instead watched the verdict from London. After the verdict, Depp released statement, "The jury gave me my life back. I am truly humbled." He added, in Latin, "Truth never perishes."