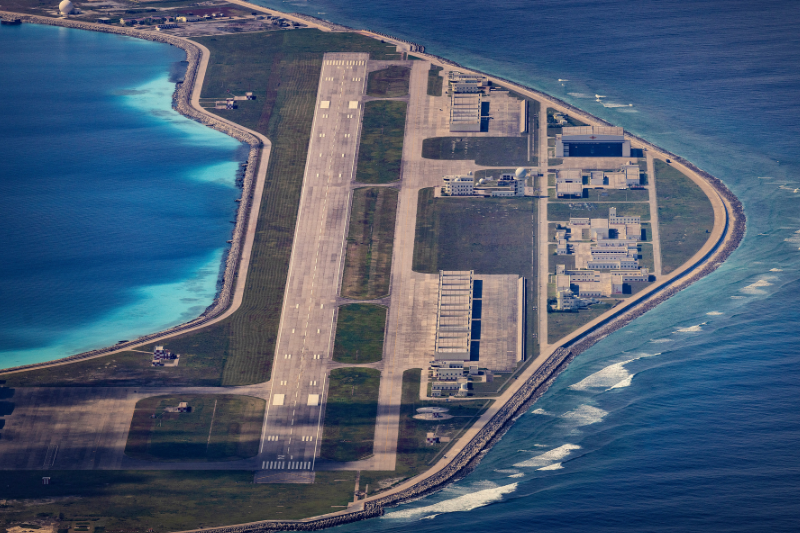 china building illegal airstrip on disputed triton island in south china sea
China Building Illegal Airstrip on Disputed Triton Island in South China Sea
Satellite images of Triton Island reveal that China is building an airstrip on the disputed island that is also claimed by Vietnam and Taiwan. More than 600 meters has been constructed; this is long enough to accommodate turboprop aircraft and drones. China has controlled Triton Island, which is the westernmost and southernmost point of the Parcels, since 1974.
Raymond Powell, SeaLight Director at the Gordian Knot Center for National Security Innovation, said this certainly shows the beginnings of an airfield being constructed on the island. He believes the runway would most likely be used for the delivery of supplies by short-field transports, but probably patrol aircraft, either manned or unmanned.
Powell said the construction of the airstrip will clearly make Vietnam agitated. "It is the closest of the Paracel Islands to the coastline of Vietnam. It is China building on an island Vietnam claims. They will see it as one more threat to Vietnam's security." 
Keep Reading
Satellite images also reveal vehicle tracks across all areas of the island, as well as containers and construction equipment. Moreover, there's a small harbor, a helipad, and buildings (it was already there). But the latest image highlights a star from China's flag, a hammer and sickle – symbol of the Chinese Communist Party, on two fields with a slogan on the ground "The Party shines brightly! Long Live the motherland!"
Powell believes construction of the airstrip could accelerate US efforts to upgrade its relationship with Vietnam to a strategic partnership or higher. He pointed out that the US President Joe Biden would be traveling to Vietnam this month and such actions by China would push the two countries to go for a strategic partnership.
In recent months, tension over the South China Sea has increased. The Philippines has accused Beijing of using vessels in dangerous and aggressive ways, such as firing water cannons and military-grade lasers at the Filipino coast guard boats. The Philippines has also strengthened military ties with Australia and Japan to take on China's aggression in the disputed islands.