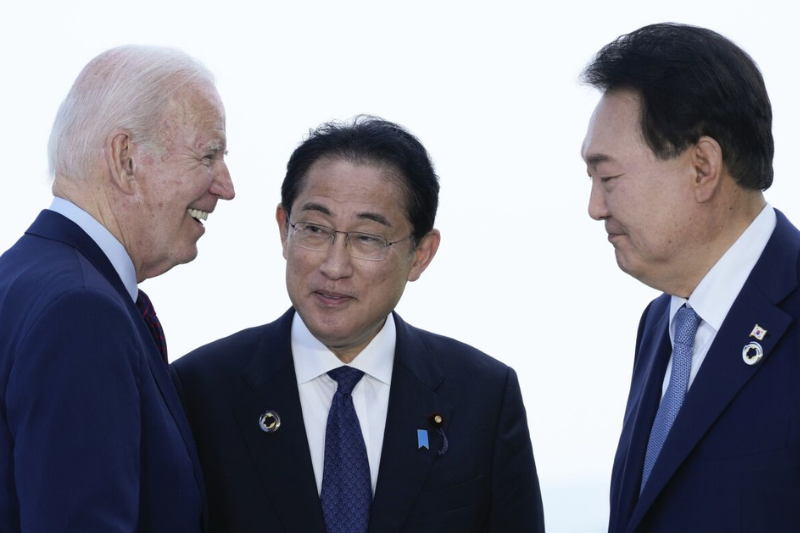 leaders of us, japan and south korea to meet for high profile trilateral summit here's what it means
Leaders of US, Japan and South Korea to meet for high-profile trilateral summit – here's what it means
US President Joe Biden is set to host his South Korean counterpart Yoon Suk-yeol and Japanese Prime Minister Fumio Kishida at Camp David in Maryland on Friday for a high-profile summit that officials from the three countries believe will bring in a new era of trilateral ties.
The event represents the first time the three leaders will assemble for an official joint summit, beyond the relatively less formal discussions held in the last few months on the sidelines of other important international gatherings, including the 2022 NATO summit in Madrid, Spain.
Why Camp David As The Summit's Location Is Notable?
Friday's meeting would have been unimaginable until recently, with the two US allies maintaining complicated ties for decades over Japan's 1910-1945 occupation of the Korean Peninsula. It's said Yoon has lately been navigating a challenging world as he tries to improve ties with Tokyo.
Analysts have often raised concerns over poor Japan-South Korea relations impacting Washington's approach towards China and the wider Indo-Pacific region. But the evidently strengthening ties between the two countries have offered the US a new opportunity.
While the trilateral summit comes amid an increase in North Korean weapons tests and China's approach to the disputed region, the location of the meeting is also important as Camp David in Maryland has historically been a site where landmark and controversial agreements are reached.
Keep Reading
"Mini NATO" Structure In Northeast Asia
Earlier this week, the Beijing-supported Global Times news outlet offered a conflicting statement in an op-ed piece that the upcoming summit was part of an aim to form a "mini NATO" structure in Northeast Asia that will be destructive to regional security.
But the US isn't seeking a conflict with China, the Biden administration has constantly stressed, frequently sending several top American officials to Beijing as part of a push to maintain open lines of communication. But simmering tensions between the two countries exist.
Ties remain strained over a number of problems, including the situation concerning Taiwan, which China claims as part of its territory. Vedant Patel, the US State Department's deputy spokesperson, recently stressed Friday's summit shouldn't be viewed as a "provocative" step.