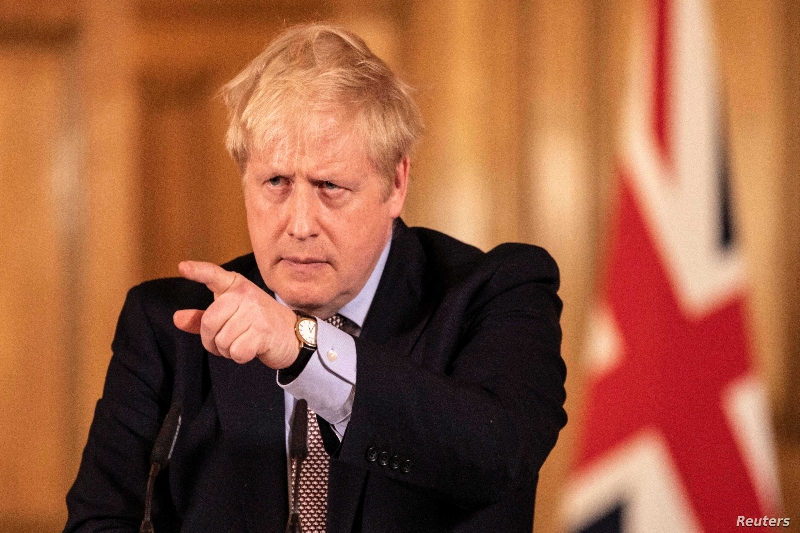 British PM Johnson under fire over his devolution remarks
Last updated on November 20th, 2020 at 07:27 am
British PM Boris Johnson is facing wrath for dismissing the devolution of powers to Scotland as a "disaster". According to media reports, Boris Johnson made the remarks during a video call with over60 lawmakers from his Conservative Party where he described the devolution as "Tony Blair's biggest mistake".
However, political leaders across the spectrum have expressed discontent with Johnson's remarks. The Welsh government slammed the Prime Minister for his "shocking" remarks, expressing concerns over the future of the United Kingdom with regards to the functioning of Boris Johnson's administration.
While the British government argued that Johnson's remarks were aimed at the mismanagement of the Scottish National Party (SNP), it has furthered the ongoing tensions between Cardiff and London. Reportedly, Wales and the United Kingdom have been facing strained relationships due to the COVID-19 crisis.
Welsh first minister Mark Drakeford also criticised the Prime Minister, saying: "Devolution comes under the sorts of pressures that it is now under when we have a Conservative government, and where you scratch the surface of the Conservative party and all its old hostility to devolution rises back to the surface."
Like Wales, Scotland's first minister and SNP leader Nicola Sturgeon also thrashed Johnson, stating that the Prime Minister's remarks to the British lawmakers showed that the public stance of Conservatives in support of devolution is deceitful.
"Worth bookmarking these PM comments for the next time Tories say they're not a threat to the powers of the Scottish Parliament – or, even more incredibly, that they support devolving more powers," she wrote in her tweet.
Douglas Ross, the Conservative leader in Scotland, contradicted Boris Johnson, maintaining that the devolution had not been a disaster.
Meanwhile, the British PM's spokesperson has said that Johnson has always supported devolution and the UK government continues to put the union at the heart of everything they do. Downing Street office also issued a statement, saying that the Prime Minister has always supported devolution but former UK PM Tony Blair failed to foresee the rise of separatists in Scotland.
"Devolution is great — but not when it's used by separatists and nationalists to break up the UK," the statement added.
What is devolution?
Devolution is the name given to the transfer of power held by the government in Westminster to elected groups in Wales, Scotland and Northern Ireland. Some of the devolved powers include health, fire services, housing and some areas of education and transportation services, the British government based in London has a number of powers including defence, foreign policy and a majority of tax forms. The public votes for devolution took place in 1998 in Scotland in Wales and in 1998 in both sides of Ireland as part of the Good Friday Agreement, resulting in the establishment of the Northern Ireland Assembly, the Scottish Parliament, and the National Assembly for Wales.