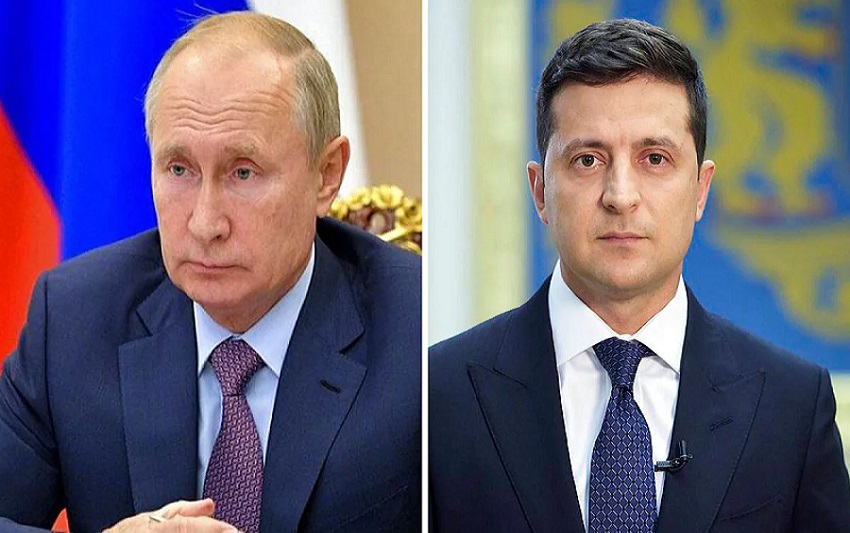 Assessing the Claims: Putin and Zelensky Offer Contrasting Views on Ukraine's Counter-Offensive
Assessing the Claims: Putin and Zelensky Offer Contrasting Views on Ukraine's Counter-Offensive
Russian President Vladimir Putin's recent claim of Ukraine's unsuccessful counter-offensive, accompanied by his depiction of major losses suffered by the Ukrainian army, has ignited a debate surrounding the accuracy and validity of these assertions. Ukrainian President Volodymyr Zelensky, however, has contradicted Putin's statements, emphasizing the progress made by Ukrainian forces and expressing gratitude for the liberation of Ukrainian territory. As conflicting narratives emerge, the situation on the ground remains complex, demanding a careful examination of the available information and perspectives.
Putin's Claims and Zelensky's Denial
During a meeting with war correspondents, President Putin asserted that Ukraine's counter-offensive had not achieved its intended objectives, highlighting significant losses sustained by the Ukrainian army. He went so far as to describe the situation as approaching a "catastrophic" level. In contrast, President Zelensky refuted Putin's claims, stating in his nightly video address that there was movement forward and expressing gratitude to Ukrainian troops for their efforts in liberating Ukrainian land from what he referred to as "Russian evil." Valery Zaluzhny, the commander-in-chief of Ukraine's armed forces, echoed this sentiment by noting successes and progress in implementing their plans.
Keep Reading
Mixed Results and Unclear Situation
While Kyiv's counter-offensive is still in its early stages, modest gains have been made in regions such as eastern Donetsk, south-eastern Zaporizhzhia, and Bakhmut, according to President Zelensky. However, the situation on the ground is not as clear-cut as the triumphant claims of liberation made by Kyiv earlier. A recent visit by the BBC to settlements in eastern Donetsk revealed deserted areas, with some regions experiencing Russian forces pushing back. NATO Chief Jens Stoltenberg acknowledged that progress was being made in repelling Russian troops, emphasizing the importance of Ukrainian territorial gains in strengthening their position at the negotiating table.
Contrasting Casualty Figures and Dismissal of Claims
In his remarks, President Putin alleged that Ukraine had lost over 160 tanks, while Russia had lost 54. He further suggested that Ukrainian troop losses were ten times greater than those of Russia, asserting that Kyiv had not succeeded in any of the sectors. These claims were met with skepticism by a US official, who anonymously dismissed them as inaccurate and cautioned against taking Moscow's public assessments seriously. Despite Putin's self-congratulatory tone during the meeting, he did acknowledge that Russian authorities could have better anticipated recent cross-border attacks from Ukraine.
Weaponry Concerns and International Responses
President Zelensky renewed calls for tougher sanctions to halt the flow of weapon components, accusing Ukraine's partner countries of manufacturing such components used by Russia to build missiles. He highlighted a recent incident where these missiles struck a building and warehouses in Kryvyi Rih, resulting in casualties. The United States responded by announcing a new military aid package worth $325 million for Ukraine. Separately, Belarusian leader Alexander Lukashenko claimed that his country was receiving nuclear weapons from Russia, suggesting their deployment was necessary to deter potential aggression. However, he did not clarify whether these weapons had already been received.
As the conflicting accounts of Ukraine's counter-offensive continue to emerge, it is essential to critically analyze the available information from multiple sources. While Putin claims Ukraine's efforts have been unsuccessful and resulted in significant losses, Zelensky maintains that progress is being made, and Ukrainian forces are successfully liberating territory. The situation on the ground remains complex, with both sides presenting their narratives. The international community, including NATO and the United States, plays a crucial role in responding to the ongoing conflict and supporting Ukraine in its efforts to defend its sovereignty.