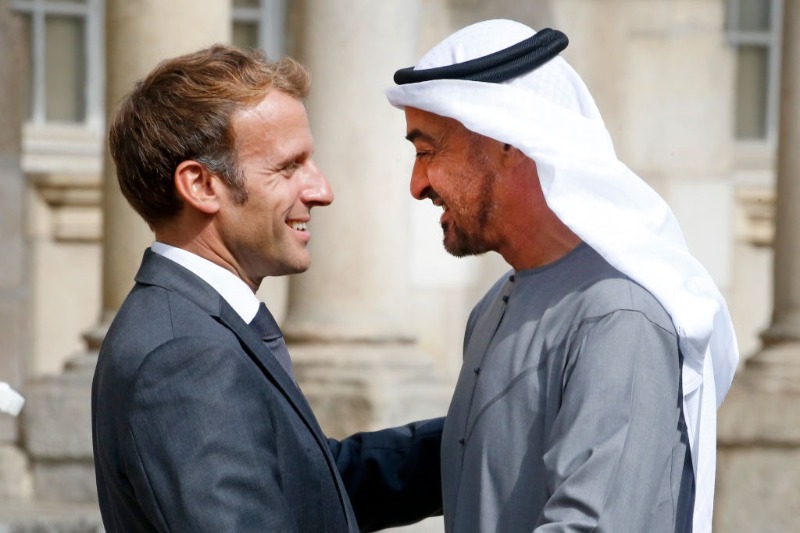 as frances energy crisis looms uae could aid as its president visits paris
As France's energy crisis looms, UAE could aid as its president visits Paris
Due to exceptional heatwaves and Russia's continued cutoff of gas supplies to Europe, France is currently experiencing an energy crisis.
If costs continue to rise, we are in for a long, cold winter. However, some assistance, if only temporary, may have just arrived in Paris.
Sheikh Mohammed bin Zayed al-Nahyan, president of the United Arab Emirates, arrived in Paris on Monday to meet with French President Emmanuel Macron to discuss the "future of energy" between the two countries. This is Sheikh Mohammed's first trip outside of the Middle East since taking office as President of the UAE, and it shows just how strong bilateral ties are between the two countries.
An expert on the Middle East and North Africa at the Jean Jaurès Foundation tells CNN's Becky Anderson: "I think it is a statement of appreciation towards France, which is viewed in the UAE as a reliable partner in the region," Anne Gadel says.
Sources at the Elysee Palace said that a deal ensuring France's supply of UAE diesel is a top priority for Paris and Abu Dhabi. The same source informed media on July 15 that Macron and Sheikh Mohammed are also interested in setting up a fund for climate-related initiatives as well as investment opportunities in other energy sources including hydrogen, nuclear, and renewables.
"Energy issues will take center stage on the visit's agenda. The economic effects of the crisis in Ukraine are of primary concern in France," Anna Gardel, a Gulf expert at the MENA Observatory of the Jean Jaurès Foundation, told CNN's Becky Anderson on Monday.
Related Posts
A rise in output is unlikely because the UAE is nearing the limits of its current capacity and is firmly enmeshed in the OPEC+ arrangement, according to Gadel's assessment.
After Joe Biden's trip to Saudi Arabia, Western countries anticipate that Riyadh and the UAE will expand oil output in order to reduce high energy costs caused by Russia's invasion of Ukraine. Sheikh Mohammed's visit follows. Europe's energy security has been put in jeopardy this week because of fears that Russia will shut off the Nord Stream 1 pipeline, which is a vital artery connecting Russia's gas to the EU.
'This visit could also be a message delivered to the United States, which has traditionally been the UAE's regional partner but is now seen as less of an ally.' Gadel added, "Elysee has a lot to offer during our stay."
Precarious security issues, such as Libya and Lebanon, have aligned the foreign policy of the United Arab Emirates and France. The UAE purchased the most Rafale warplanes from France ever last year, just before the Gulf Arab nation halted its purchase of F35 jet fighters from the United States.
France's strongest ever export sale of the Rafale warplane to the UAE, valued at $19 billion at the time, was made just before the Gulf Arab nation suspended an agreement with the United States for F35 jet fighters.
UAE Presidential Adviser Anwar Gargash said during a briefing over the weekend that the UAE and France would look to expand their cooperation in areas such as sustainability and the future of energy.
As a result of Russia's invasion of Ukraine, the United Arab Emirates is shifting its oil supply away from the far east and toward Europe, according to the country's oil minister, Mohammed Gargash. However, he noted that any choices on energy are made as part of a "large group," and the United Arab Emirates will abide by the decisions of that group.
A statement from the UAE Ambassador to France Hend Al Otaiba stated that "a lasting sense of optimism for the future" continues to be generated by the UAE's long-standing political and economic ties with France.
"There are "strong and historic" ties between France and the United States, which is why France was chosen as the President's first official visit," said Gargash.