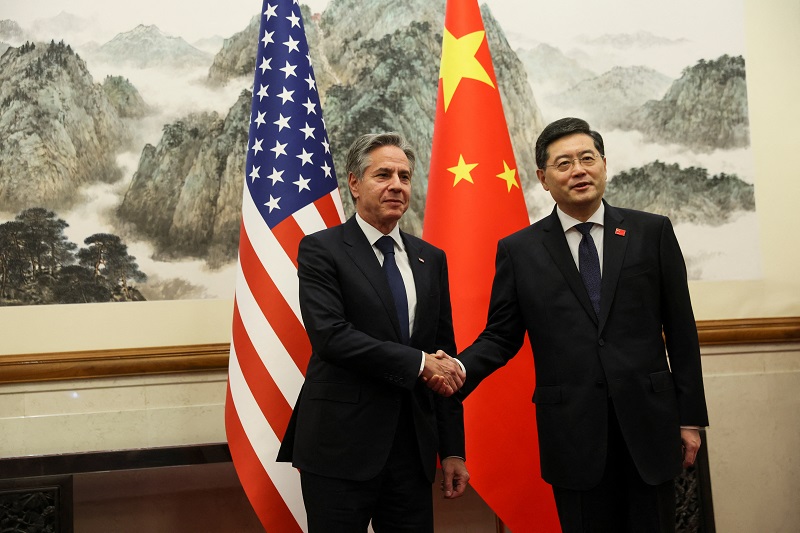 All eyes on Antony Blinken: Will the top US diplomat meet Xi Jinping in China?
All eyes on Antony Blinken: Will the top US diplomat meet Xi Jinping in China?
US Secretary of State Antony Blinken was greeted by China's top diplomat Wang Yi on Monday, and will perhaps meet the country's president, Xi Jinping, on the final day of a high-profile visit aimed at reviving relations between Washington and Beijing.
Discussions between Blinken and Jinping are expected but are yet to be confirmed. Meanwhile, the top US diplomat had a seven-and-a-half hours long meeting – an hour more than expected – with Chinese foreign minister Qin Gang.
Candid And Constructive Conversation
It's the first visit by a US secretary of state to China in five years. While the US state department called the discussions "candid, substantive and constructive", they did not appear to make noteworthy progress on controversies that include Taiwan, trade, human rights, and fentanyl.
Both parties expressed their desire to stabilise relations. According to state-run broadcaster CCTV, behind closed doors, Qin told Blinken relations between the two countries were "at the lowest point since the establishment of diplomatic relations".
Keep Reading
Nevertheless, the Chinese foreign minister is expected to visit Washington in the coming days to continue the discussions, though no official dates were announced.
Deteriorating Relations Spark Concerns Over Possible Military Clash
Sino-US relations significantly deteriorated in recent years, elevating concerns the two largest economies in the world might one day clash militarily over Taiwan, a self-governed island that China has long been claiming as its own.
But now US officials and analysts expect Blinken's visit will pave the way for numerous other bilateral meetings in the coming months, including potential visits by commerce secretary Gina Raimondo and treasury secretary Janet Yellen.
Biden and Jinping Could Hold Meetings Too
The high-profile trip could also set the stage for talks between Jinping and his US counterpart, Joe Biden, who are expected to attend the next G20 summit in September in New Delhi and the Asia-Pacific Economic Cooperation forum in November in San Francisco.
While the US secretary of state was originally scheduled to visit China in February, he had to put the plans on hold amid controversies stemming from an alleged Chinese spy balloon flying over America, which later shot it down.