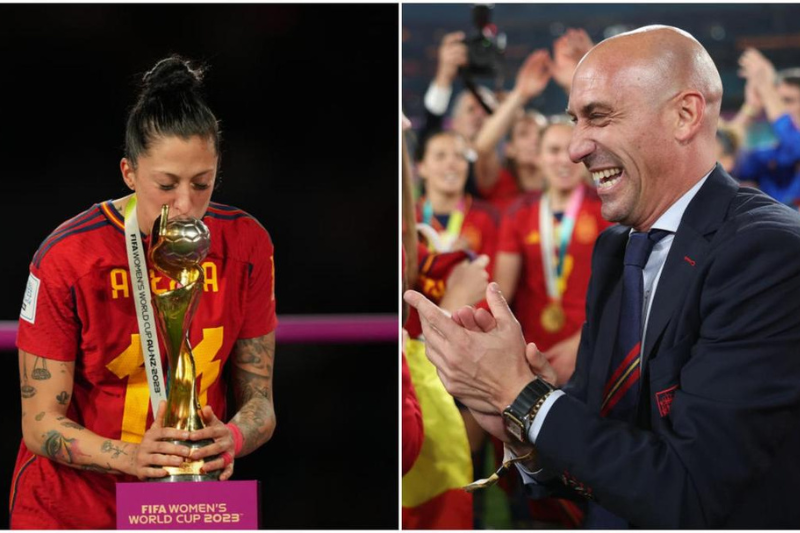 a kiss after spain's women's world cup win sparks outrage
A kiss after Spain's Women's World Cup win sparks outrage
Luis Rubiales has triggered massive outrage on social media after the president of the Royal Spanish Football Federation was captured on camera kissing forward Jenni Hermoso on the lips following Spain's historic 1-0 win over England in the World Cup final on Sunday night.
"Natural Gesture Of Affection And Gratitude"
Rubiales was seen lifting the all-time top scorer of Spain off her feet after she accepted a medal from FIFA president Gianni Infantino. After the pair had a brief exchange, he appeared to kiss the player on stage during the official post-match ceremony in Sydney.
The Spanish football president was also seen embracing other players and kissing them on the cheeks in a video from the celebrations. While Hermoso said she "did not enjoy that" on a live stream afterwards, the player appeared to clarify her position in comments later given to media.
In comments given to AFP by the Spanish federation, Hermoso called it a "totally spontaneous mutual gesture because of the immense joy that winning a World Cup brings," adding Rubiales' "behaviour with all of us has been outstanding."
Keep Reading
Goalscorer Learns Of Father's Death After Final
The federation chief has reportedly rejected suggestions his gesture was inappropriate. Meanwhile, Spain's landmark victory came despite a long period of instability. 15 players refused to play for coach Jorge Vilda last year.
The players raised concerns over the coach's training methods, tactics and style of Management. At the time, Vilda called the accusations "unjust". Three players subsequently returned, with the coach trying to steer attention away from the dispute during the tournament.
Calling her "the history of Spanish football", the federation revealed in a post-match upload on X, formerly known as Twitter, the captain and World Cup-winning goalscorer, Olga Carmona, only discovered her father had passed away after the World Cup final against England.